Easter Egg Hunts Events In Jersey City
Easter is on Sunday, April 9th, and the weather is getting better; we are excited to share that many Easter egg hunts in Jersey City are back as well as other activities in the city.
Also, a photo with Easter Bunny is happening at a few places in and around the area. So save the following dates on your calendar for some fun and family-friendly events in the area.
EASTER EGG HUNTS
Easter Egg Hunt Jersey City (PASSED EVENT) 
Saturday, March 25th @12:00 PM
Location: Enos Jones Park, 237 Brunswick St. (Large Baseball Field) 

This is a free event. Pre-registration is required.
Register Here.
There are timed events for ages 2-6 year olds.  Please sign up your child for the appropriate age group.  This year the Easter Egg Hunt will be in the Large Field at Enos Jones, NOT in the Skate Rink. We encourage families to refrain from bringing a stroller because there will be no secure place to leave a stroller unattended.
Indoor Easter Event Jersey City 
Location: 189 Brunswick Center 
Friday, March 31st, 4pm to 6 pm 
JCFamilies is organizing this event with help from our sponsor The Brunswick School. It's a $5 dollar admission with lots to do with your little one.
Pictures with the Easter Bunny
Easter Story Time
Easter Crafts
This event is for children ages 2 through 5 years old. So come prepared to have some fun!
Spring Fling Festival
Location: Columbus Park (Clinton between 9th. & 10th Street
Saturday, April 1st 2023, 10am to 12pm
Hop on over to Columbus Park on Saturday, April 1st for the 21st Annual Spring Fling Festival and Egg Hunt!
Activities include: Egg Hunt (turn them in for a bag of goodies), shaky egg race, bunny hop race, guess the Jelly Bean to win a bike (Courtesy of Anthony Romano)
Bring your camera and baskets and prepare to have fun! (Suggested donation $5 per child) 
My Gym Easter Eggstravaganza!
Location: My Gym Jersey City- 252 9th St.
Sunday, April 2nd @ 1pm

Join us for an Easter Eggstravaganza! Not only will your little one have fun searching around for Mymo's hidden eggs, but they will also join us for dances, games, and MORE! All ages are welcome! Sign up here. One of the best Easter Egg hunts events in Jersey City!
Cost: $25 per child
*Must RSVP 24 hours in advance; no walk-ins. All sessions are non-refundable*
FREE Easter Fun Day
Location: 276 First Street, Jersey City
Saturday, April 1st, 10 am to 12 pm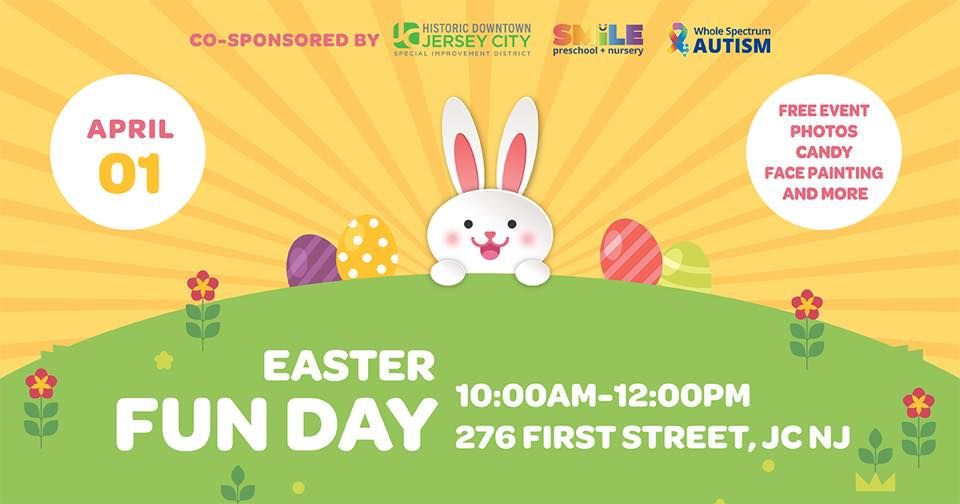 Please join HDSID, Smile Preschool Nursery, and Whole Spectrum Autism for free pictures, face painting, candy, and more!
Registration form: http://bit.ly/3lSBch5
Find out more details here.
Hoboken Grace Church Easter Egg Hunt
Location: Mama Johnson Field, 400 Harrison Street, Hoboken
Saturday, April 1st, 2023 @ 9:30 am
Morning – 9:30 am | 10:15 am | 10:45 am
Afternoon – 1:00 pm | 1:45 pm | 2:15 pm
Review the time slots below, prepare to play games, take pictures with the Easter Bunny, and hunt for eggs. Be sure to coordinate with other families if you want to be together! Each slot has a maximum capacity and will be filled on a first-come basis. Registration opens soon. Check back here for more information.
Easter Egg Hunt By Riverside Church
Location: Mary Benson Park
Saturday April 1st,  1pm to 3 pm
Join Riverside Church at Mary Benson Park for their Easter Egg Hunt. Spread the word and invite your friends and family to join in on all the fun! Free giveaways, face painting, and family photos. Free to attend. More info.
Easter Egg Hunt By Village Tree House
Location: 119 Monroe Street, Hoboken
Sunday, April 2nd, 4:00 pm to 5:30 pm

Grab your baskets and join Village Tree House for an egg hunt, bubble party, open play, music class with A Sound Start and visit + photo ops with the Easter Bunny!
Book your spot HERE
Easter Egg Hunt At Lincoln Park
Location: Lincoln Park Playground
Saturday, April 8th, 10:30 am to 12 pm
Join the Easter Bunny in Lincoln Park for an egg hunt, hot dogs, photos with the Easter bunny, and more fun at the Lincoln Park Playground next to the Hank Gallo Center. More information is here.
Easter Egg Hunt 2023 at Berry Lane Park 
Location: Berry Lane Park (baseball field) 
Saturday, April 8th 2023 @12pm
Get ready for some Easter fun at Berry Lane Park! Thousands of candy-filled eggs, gaming trucks, laser tag, giveaways, and more. Follow them on Instagram for more information.
West Side Merry's West Side Bunny Trail
Location: Lincoln Park Fountain 
No Date has been Announced Yet
Join The West Side Merry's for their annual West Side Bunny Trail! They will meet and greet with the Bunny and their Easter Villagers at the Lincoln Park Fountain with crafts and activities!
Jersey City Southside Easter Egg Hunt
Location: Arlington Park, Bayside Park, Bethune Park, and Columbia Park
No Date has been Announced Yet
Please join us for four Easter Egg Hunts at Arlington Park, Bayside Park, Bethune Park, and Columbia Park. Register your children and come out to enjoy the festivities.
They are taking donations of plastic eggs, candy, and small toys/trinkets to have a successful and impactful event. All donations can be dropped off at the Bethune Center at 140 Martin Luther King Drive, Jersey City, NJ 07305. Monday-Friday 10:30-6:30 pm. Please only register for one park; we want to ensure that the children in that community get the whole experience. Children 2-12 years old can participate; please bring your own empty Easter Baskets. Register here.
Put an Egg on Everything at Smorgasburg/Smorgasbar in Jersey City
Location: Smorgasburg at Urby Parking Lot/Harborside 
No Dates have been Announced Yet
Bring the whole FAMILY: Egg hunt, face-painting, + games at Smorgasbar in Jersey City on the 16th from 11 am. Enjoy food and drinks from over 50 local vendors and Easter-themed events at Harborside Place, at Hudson Street, in Jersey City. More info here.
PHOTOS WITH THE EASTER BUNNY
Newport Mall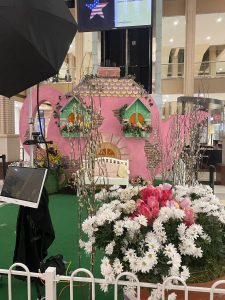 Get ready for the ultimate Easter Tradition: Photos with the Bunny at Newport Mall.
Operating Hours: Monday – Saturday: 11 AM – 7 PM
Sundays: 12 PM – 6 PM
The store Opens on March 17th, 2023
Paramus Mall 
March 17th – April 8th
Hop, hop, hooray, it's Easter Bunny picture time! Don't miss out on making eggs-tra-special memories with everyone's favorite fluffy friend. To reserve a spot and find more details, click here.
Updated: March 27th, 2023