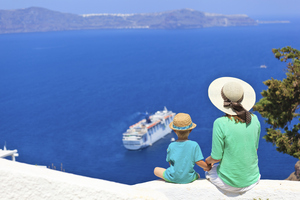 I think a cruise is a GREAT vacation choice for families. First, they are a great value. You have your food, activities and room all included in the price. As well, you and the family can explore more than one destination and unpack only one time. Even more, a cruise can offer something for everyone in the family; great kids clubs, babysitting, pools and water slides, great destinations, adult only areas and more.
Our first cruise as a family was a Disney cruise when my son was 4 months old. I have heard from parents in the past, that they are concerned about safety, my kids are too young or it is too expensive.  Well, I wanted to share some information and tips to make a cruise, a great vacation choice for your family.
1. I am afraid of the Balcony.
Yes, the balcony can be a scary option for families with small children, but there are some roomy cabin options without a balcony.  Norwegian has Family Ocean View cabins that are spacious and include a large porthole so you don't feel like you are living in a cave.  As well, Disney has cabins with large portholes, they big enough sit in to read a book or just watch the ocean pass by. As well, Disney has Inside cabins with the Magic Porthole. These inside cabins are surprisingly large and with the Magic Porthole, you are getting a live feed of the outside of the ship, along with some surprise friends.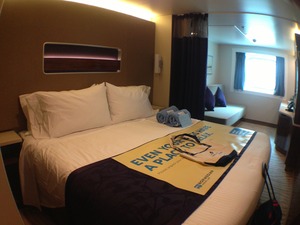 2. Will there be enough room for the family?
Along with the no balcony options, the cruise lines have seen the need for larger family staterooms.  Especially on the newer ships like the Norwegian Breakaway and Royal Caribbean Oasis ships.  Disney of course has always had larger rooms to accommodate families.  As well there is also the option of connecting cabins, or even a suite to make sure everyone has room to spread out.
3. What about a hurricane or bad weather?
The height of hurricane season is the end of August through the beginning of November. So if this is a concern for you book accordingly.  However, if weather becomes an issue the ship can easily change its path to calmer waters, but your ports might change. Rarely is a cruise canceled.  I say make sure to book travel insurance to cover your family and your money.
4. How do I pack for a cruise, especially if I am traveling with a baby?
When cruising you have to check your bags before you board the ship and they are delivered to your cabin, which sometimes can take a few hours. So make sure you have a carry on bag with anything you might before your bags arrive. As well, pack swimsuits in your carry on because if you get on the ship early your room might not be ready. But you will be able to get something to eat, enjoy the pool and get your vacation started.   As well, most ships have an onboard laundry facility, so if you want to pack light you can do laundry to make it through the vacation. Also ships with a nursery will have baby toys, high chairs, and anything else you might need for a baby.
5. What if I run out of diapers, formula, etc.?
I know when traveling with little ones it can be daunting thinking of all the supplies you will need. Also, what if you run out of something while at sea.  Most ships have baby supplies available in the shops.  As well, there are companies likeBabies Travel Liteor Babies 2 Go where you can order supplies in advance and have them delivered directly to the ship.
6. My child is not old enough for the Kids Club.
While most ships have kids club where you can drop off kids 3 and up. Not all have good accommodations for babies and toddlers, but there are options. Disney has the "its a small world nursery", which has trained child care providers and just about anything a baby could need. There is a small fee, but it allows Mom and Dad to at the very least have a nice dinner or head to the spa.  As well Royal Caribbean and Carnival also have babysitting options.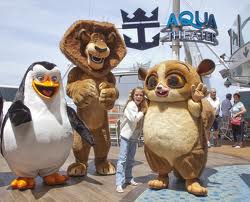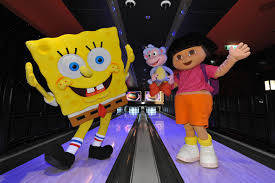 7. What if we get bored on the ship?
Bored is something I do not think anyone will have as a problem on a cruise. Every day a planner will be delivered to your cabin with activities, shows and more planned for almost every hour of the day.  As well, I know my boys just want to be in either the pool or the kids club.  As well, adults have shows, amazing specialty restaurants, casinos, and adult-only areas of the ships to entertain.  As well, Disney, Royal Caribbean and Norwegian have some of your kids favorite characters for photos, fun and of course a character breakfast.
8. It is too expensive
Really if you compare to a  land vacation, a cruise can be a GREAT value. The cruise lines are always having promotions and for my clients even after they are booked I am looking for free upgrades, onboard credit and more. As well, for those near a port, you could save over $1000 on not having to fly to the destination.  As well, if you look at all that is included in a cruise it can be a great savings.
9.  What if we all get seasick?
My kids have been on 3 cruises and have never had a problem with motion sickness. These newer ships have stabilizers and unless there is a storm you are not feeling the motion.  However, I never travel without my "patch". I put it on before we board and I am good to go. There are pressure bands and other remedies, but I think the patch really works the best.
10. A cruise does not go where I want to vacation
There are so many options of where to sail on a cruise. Of course, you can visit the Caribbean, but you can also visit Alaska, Panama Canal, Hawaii, Europe and more.  Especially with a family, cruising can make visiting locations like Europe so easy.  I think it is a great way to introduce your kids to Europe.  Once on the ship you unpack, relax and visit, Span, Italy, Greece, France and more. No packing and unpacking, schlepping bags, kids, etc.  During the day you visit the city, at night you relax and enjoy the ship and the next day you are at a new destination. So easy.
For those of you here in the NY/NJ area we have some GREAT options for cruising. We have the new Norwegian Breakaway sailing from NYC to either Bermuda or Florida/Bahamas. On the Florida/Bahamas, you can spend the day at Walt Disney World and Atlantis. I call that 3 Vacations in 1 and you don't have to fly.
Next November 2014, we will have another amazing ship, Royal Caribbean Quantum of the Seas sailing out of Cape Liberty, NJ.  This ship is amazing. You will be able to ride bumper cars, "skydive", zip line,s and more.