The 10 Best Ice Cream Places in Jersey City
Beat the Summer Heat with these ice cream places in Jersey City.
Nothing is better than a creamy, cool, and delicious cup or cone of ice cream on a warm summer afternoon or evening. Furthermore, it is the perfect family outing that all ages can enjoy equally, a huge bonus. There are many ice cream places to choose from in Jersey City, and each shop offers something different in taste, flavor, and atmosphere. So, let's check out the best 12 ice cream places in Jersey City so you can plan your next family ice cream date!
Downtown Yogurt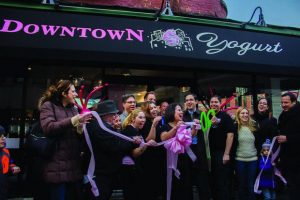 If you want something lighter on a hot summer afternoon or evening, look no further than Downtown Yogurt. Their yogurt is thick and creamy like regular ice cream, they have tons of toppings to choose from, and the outside seating area is the perfect place to sit with the family and enjoy your cups of deliciousness. Even though this isn't technically ice cream, it is just as good and makes it one of the best 12 ice cream places in Jersey City.
Location: 126 Newark Ave. Jersey City, NJ 07302
Milk and Cream Cereal Bar
Milk & Cream Cereal Bar in New York City's premier cereal bar is now open in Jersey City. They specialize in blending cereal-infused ice cream with an array of complementary products. It's a modern spin on a timeless favorite, where the old connects with the new to bring back your fondest memories and help create new ones. They have ice cream and milkshakes with many different flavors and toppings.
Location: 175 Newark Avenue, Jersey City, NJ 07302
Torico Ice Cream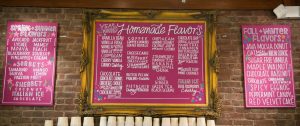 This homemade ice cream spot is a beloved Jersey City hotspot. They have over 65 flavors, so there is something for everyone. They take pride in making their ice cream with natural, whole ingredients. You can feel confident knowing that your peanut butter ice cream tastes like peanut butter because, you guessed it, it's made with the real deal!
Location: 20 Erie St, Jersey City, NJ 07302
Jersey and Co Gelato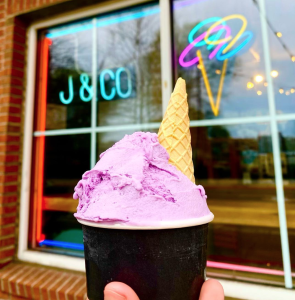 Jersey and Co. Gelato serve handcrafted gelato & sorbet made in small batches.
Location: 55 Mallory Ave. Jersey City, New Jersey 07305
Stack Creamery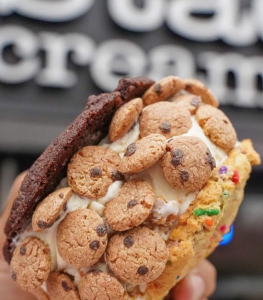 Stack Creamery is a brand new addition to the ice cream family in Jersey City. Family owned and operated by 3 siblings, 2 of which left their careers to follow their passion, serving their absolute favorite childhood dessert to their local community. At Stack Creamery, they make made-from-scratch, original recipe Cookies and Brownies made with high-quality REAL ingredients and pair them with Super Premium, Locally made Ice Cream to form the most AMAZING and custom ice cream sandwiches.
Stack Creamery has over a dozen original recipe cookies, super-premium ice cream flavors, and toppings, allowing YOU to create your version of the PERFECT ice cream sandwich.
Location: 465 Central Ave, Jersey City, NJ 07307
Milk Sugar Love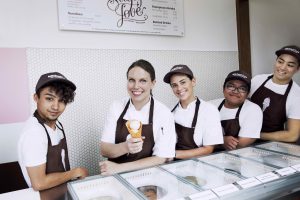 "At Milk Sugar Love, we churn delicious ice cream made from organic milk and cream and all the best New Jersey produce. We craft all our ice cream and sweets by hand in our kitchen in Jersey City. We proudly work with fantastic farmers and local artisan producers to create our delicious, chef-driven flavors" – this is Milk Sugar Love's mission, and you can taste it in every flavor they make. Knowing the ice cream you feed, your family is safe, healthy, and supports local farmers is great.
Customers love their creamy, delicious, and unique flavors, like Earl gray fudge for the parents and fruity pebbles for the little ones. You are sure not to feel disappointed by their ice cream with any flavor you may choose, making them one of the best 10 ice cream places in Jersey City.
Location: 19 McWilliams Pl Jersey City, NJ 07302
Dahlia's Ice Cream Spot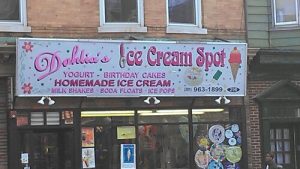 Famous for its scoop and soft-serve ice cream, this shop is perfect if you are looking for classic ice cream with traditional flavors. The mango and strawberry shortcake flavors are customer favorites. All of their ice creams are homemade. If you love it, you can take home a premade tub of your favorite flavor.
Location: 290 Central Ave Jersey City, NJ 07307
Jun's Macaron Gelato
Jun's Macaron Gelato is located in Hoboken, NJ. They are dedicated to spreading European sweet desserts by combining France and Italian sweets to satisfy your sweet tooth. Jun's Macaron Gelato is also known for creating delicious rolling ice creams.
Location: 410 Washington St, Hoboken, NJ 07030
Angel's Recipe Ice Cream & Crepes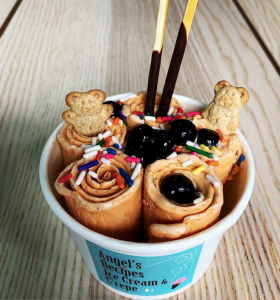 Looking for yummy rolled ice cream and crepes? Check out Angel's Recipe in the Heights. Providing the freshest and most premium quality ingredients is their goal. Their Ice cream is made of all the best ingredients, carefully chosen from the local market, containing anything they wouldn't want to use at home, such as GMO products, chemical stabilizers, and preservatives. They believe that the best taste comes from the best ingredients.
Location: 312 Central Ave Jersey City, NJ 07307
Crema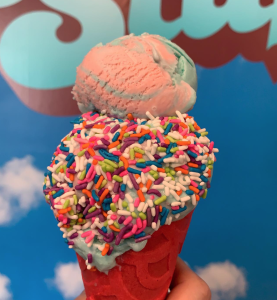 Located in McGinley Square near West Side, Crema is perfect for anyone looking for various ice cream, baked goods, and delicious desserts. Everything is freshly made, so you should check out this bakery!
Location:695 Bergen Ave, Jersey City
Dairy Queen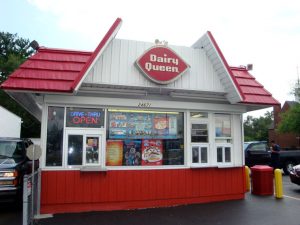 Dairy Queen is a classic and well-known ice cream shop that deserves a spot among the best 12 ice cream places in Jersey City. They are known for their Blizzards, traditional ice cream flavors, and cones. They have excellent customer service and a great family-friendly atmosphere.
Location: 513 W Side Ave Jersey City, NJ 07304