Last summer the boys and I decided to check out the newest attraction in our area Field Station: Dinosaurs. The boys really love dinosaurs and they had a blast. It's easy to get to and the park is big enough to enjoy all of the attractions yet small enough to not cause your littles ones to complain about walking too much. It makes for a great day trip!
I have to say, I was impressed by the dinosaurs. There is a lot of attention to detail.  They are big, moved and roared. The boys thought they were "cool." There is a nice selection of dinosaurs, in all different shapes and sizes.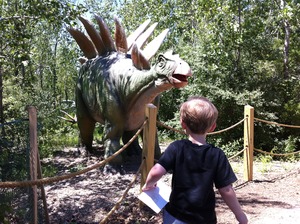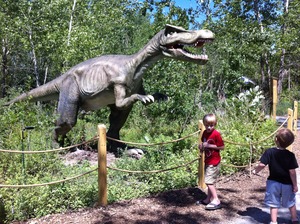 What To Do and See:
When you enter the park you are given your credentials which allow you to enjoy all the activities they have to offer. When you visit different areas and activities throughout the park the Park Rangers will stamp you in! This added to the adventure for my boys as they were on a search to see where they could get their stamps. It is also a nice, free souvenir.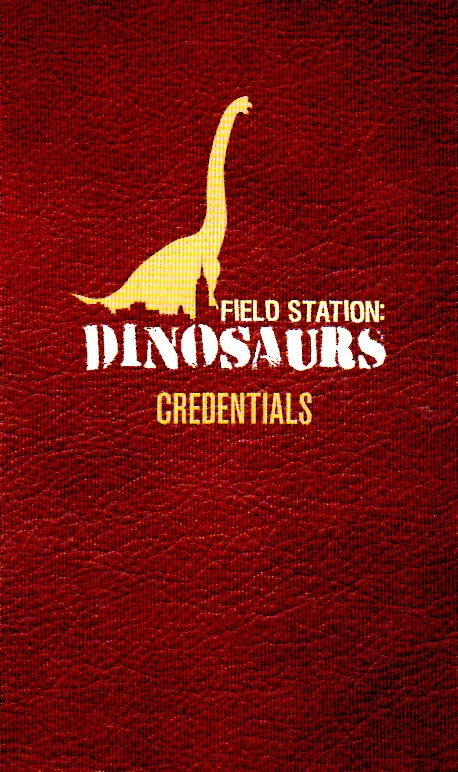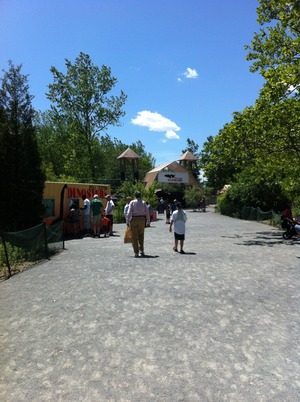 LEGOS
There was an area where the kids could build and play with LEGOS. Of course, my boys did not want to leave this area. It was a bit crowded, but they have a few tables and different Lego pieces so everyone had a chance to play.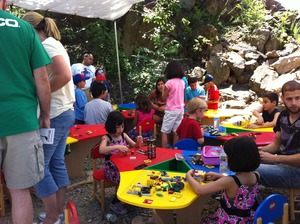 The Dig
This is an area where you get to be a paleontologist.  The park provides shovels, brushes and other tools for the kids to dig and discover dinosaur bones. All the kids were having a lot of fun and were so excited when they found some bones. But on a hot, sunny day it would be nice if it was a little more covered. However, they did have a covered area for the parents to sit.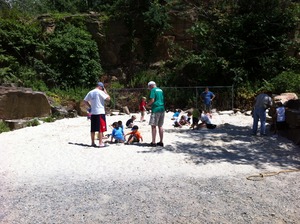 Crayola Art Area
This was an area sponsored by Crayola. They had crayons, markers and activities for the kids. The kids got to color dinosaur pictures and other dino related crafts.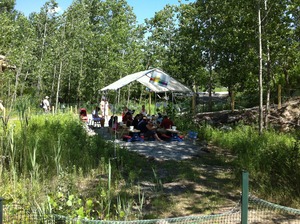 Shows and Games
They have the Dinosaur Meet and Greet, where you meet the dinosaur babies.  This was really cute. There is also an amazing dinosaur puppet. The show has "handlers" to teach you about the dinosaur and even try to feed it. There are also game shows such as Raptor Feud and T-Rex Games. These games aim to educate children about dinosaurs. The park had something to see about every 30 minutes which I thought was great.
Dinosaurs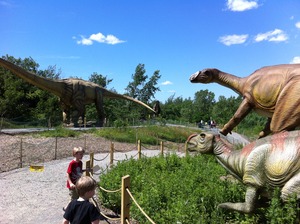 Well, we can't forget the main attraction! There are 31 life-sized animatronic dinosaurs, in different areas of the park. These areas are Base Camp, The Quarry, The Plateau and The Lookout. Each dinosaur also has a sign that has the name and information about that dinosaur.  I liked how they were displayed in different setting representing what the dinosaurs ecosystem might of looked like. For example, the Velociraptors were a bit hidden in the reeds, but you could hear them. I felt like I was in the "Jurassic Park" movie.
How To Get There: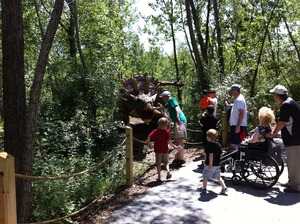 The park is located at 40 Fort Lee Rd, Leonia right off Interstate 95, Exit 15X.  You can drive or even take the NJ Transit Train. If you take the train, the park is a short 10 minute walk from the train station. Also, during the summer there is a free shuttle from the train station to the park  You just have to confirm the pick up times. If you decide to drive, parking is $10.  The park is open in the spring through the beginning of fall.  Make sure to check out their website for exact hours and days they are open!
Overall, Field Station: Dinosaurs is a fun day! Make sure you wear comfortable shoes as you will be doing some walking. The trails are smooth and stroller friendly for a stroller, but it can be a bit bumpy. You can bring snacks and drinks in to the park, but they also have a snack bar. Beware when you are leaving the park as they make you go through the merchandise tent. Needless to say, I did not get out of there without opening my wallet. But I know the boys and I will be headed back there again.