Schools, Daycares, & Preschools in Jersey City
Picking the best school to send your child to can be stressful. With all of the options available, you want to make sure you make the right choice! Below is a list of private schools, charter schools, public schools, and day cares in Jersey City & Hoboken! We also provide a few after-school and summer camp resources! ,Schools Daycares Preschools Jersey City
PUBLIC SCHOOLS
In the United States, public schools are divided into districts. Districts can include one city or town, but other districts are made up of many towns and cities. Not sure where your local school is located within your district? No worries, you can check the New Jersey School Directory. All public schools are free because they are reliant on federal, state, and local tax dollars. By law, public schools must accept every child in their district, but this does not mean your child will get into the school you choose.
PRE-K DUAL LANGUAGE PROGRAM GUIDELINES FOR PUBLIC SCHOOLS:
Students must be residents of Jersey City and meet the enrollment eligibility. Children must be four years old by October 1st. The Pre-K Dual Language classrooms are configured so that half of the 15 students (7/8) speak English and the other half (7/8) speak Spanish. The Pre-K Dual Language Program is available in 4 Jersey City Schools, including PS #3, #5, #6, and #30.
Registration:
Pre-K Dual  Language registration process usually takes place between February and March. Applications can be picked up from the Early Childhood Department at 346 Claremont Avenue here in Jersey City, the Early Childhood webpage, and public schools. Once completed, applications can be submitted by hand, certified mail, or email. Students who are not chosen will be placed on a waiting list and per their lottery number and they can apply for other schools, daycares, and preschools in Jersey City.
PRESCHOOL PROGRAM & FULL DAY Kindergarten PROGRAM
Registration:
The following are the steps that parents needed to complete during registration. Ensuring you check individual school requirements for each of the requirements can change and vary from school to school.
Get a copy of the school's registration form.
Answer the district's health questionnaire less than 12 months before the start of the school year. If you require support with health insurance, you may qualify for New Jersey Family Care. New Jersey Family Care is also available to qualify legal immigrants. You can reach them online or by calling 1-800-701-0710.
Child Immunization from an NJ doctor or recognized health authority from your last place of residency.
A copy of your child's last school report from your last place of residency, if applicable.
Four proofs of residency. These include a utility bill, apartment lease, valid driver's license,s or notarized affidavit.
The child's original birth certificate. A passport alone will not be accepted. If original documents have not been translated to English, they should have an English translation provided by a reputable translator.
Two emergency contacts for school records.
PRIVATE SCHOOLS
Private schools are autonomous, which allows them to have the freedom to offer religious education and/or curriculum apart from the regulated state standards. Private schools also depend on their own funding, which may come from intuition, grants, donations, and endowments. Private schools are not required to accept every child that applies. But there are many more schools,  daycares, and preschools in Jersey City that you can apply to.
Admission:
The private school admission process usually starts about 12 months before enrollment.
Open House is held in the fall for parents and potential students to visit the school and learn about the program. Parents should receive a Pre-Application during the open house, and it should be completed with a non-refundable direct deposit covering an interview/evaluation with the child.
Families are notified of admissions by an acceptance letter mailed to the family. Letters usually arrive in March.
Families are required to respond within one week of receiving an acceptance letter. To secure space, a contract needs to be signed and non-refundable and registration fees paid.
CHARTER SCHOOLS
Similar to traditional public schools, charter schools are free. However, paces are often limited. Charter schools are independently run, and for-profit private companies operate some. A school's ability to remain often depends on the school's management and the students' performance. Usually, charter schools tend to be smaller schools resulting in smaller class sizes. All charter schools hold lotteries for admission.
Application:
Two application rounds for charter schools – March and October.
The application process is conducted in two phases.
SCHOOL/DAYCARE ENROLLMENT PROCESS
Toddler Program: must be 2 years old by Oct 1st.
Transitional Three's Program: must be turning 3 years old between Oct 2nd – Dec 31st.
Pre-K 3: must be 3 years old by Oct 1st.
Pre-K 4: must be 4 years old by Oct 1st.
Kindergarten: must be 5 years old by Oct 1st.
SCHOOLS, DAYCARES, AND PRESCHOOLS IN JERSEY CITY
158 Erie St, Jersey City, NJ 07302 – Phone: (201) 714-4390

Rafael de J. Cordero School – P.S. 37 is a public school located in Jersey City, NJ.
150 Warren St #108, Jersey City, NJ 07302 – Phone: (201) 333-5600
Waterfront Montessori is a parent-founded, parent-run independent school for children from two years old through eighth grade.
189 Brunswick St, Jersey City, NJ 07302 – Phone: (201) 420-1550
The Brunswick School encourages its students to think and learn by utilizing various brain parts to become holistic learners. Loosely based on The Creative Curriculum, The Brunswick School educators use a diverse approach to educate our youth that encompasses logical/abstract thinking, creative outlets to fasten fundamental ideas, hands-on, student-driven exploration, teacher-guided large group and small group instruction to provide a comprehensive curriculum for lifelong learners.
159 2nd St, Jersey City, NJ 07302 – Phone: 201-963-5555
Academy of Excellence Preschool is enrolling for the 2021/2022 Academic Year. Infants, toddlers, and PreK grades. At the Academy of excellence Preschool, they believe in nourishing each child & curiosity by opening their mind to the endless world of possibilities before them. They make sure that every student is encouraged and guided to achieve their greatest potential. The school is known for turning mirrors into windows so that each child will have a solid foundation to see their path to success.
Learning Centers: Phone: (201) 461-6363
462 Central Ave Jersey City, NJ 07307
532 Jersey Avenue Jersey City NJ, 07302
Smart Start Academy is dedicated to bringing the best environment for learning and creativity to each student. Their full-day programs have a curriculum that works to meet every learning style that nurtures every aspect of a child- the physical, emotional, intellectual, and social aspects.
255 Brunswick St, Jersey City – Phone: (201) 241-4443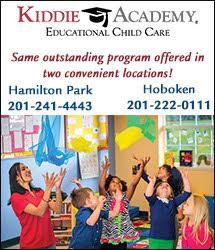 Kiddie Academy is an educational daycare center exceeding expectations! Children will focus on learning while having fun. They provide family styles meals from their in-house chef who uses organic ingredients.
10 Regent St, Jersey City, NJ 07302 – Phone: (201) 516-0700
Hudson Montessori School was founded in 2009 and is an independent school committed to providing the highest quality education to children, from ages 2 infancy through upper elementary school.
1 McWilliams Pl #206, Jersey City, NJ 07302 – Phone: (201) 533-1910
Hamilton Park Montessori School educates children from infancy through eighth grade, following Maria Montessori's vision, who was thrice nominated for the Nobel Peace Prize for her advocacy of children and her work toward world peace.
675 Monmouth St, Jersey City, NJ 07310
Phone: 201-743-9190
Hours: 7am – 7pm
Instagram: @IvyPrimary
Ivy Primary Prep is an early childhood education center catering to ages 18 months through 6 years. The center focuses on primary learning and early childhood development, offering academically focused programs. Ivy Primary Prep takes an innovative approach to the development of the whole student by emphasizing a curriculum that includes physical, social, and emotional components. The teaching method revolves around interactive and workshop-based lesson plans. To foster an academically challenging environment and maximize student-teacher engagement, each classroom is capped at 10 students.
Ivy Primary Prep is not a school adjusting to COVID, but a new facility built and structured during COVID with the health and safety of Little Ivies, staff, and community always being top priority.
340 Grove St, Jersey City, NJ 07302
As a leader in early childhood education and family development, Early Beginnings Day School is committed to developing innovative educational solutions.
209 Third Street, Jersey City, NJ 07302 – Phone: 201- 338- 8320
The French American Academy strives to provide the highest educational standards with a bilingual, comprehensive curriculum in a safe and creative environment. They foster an atmosphere that promotes critical thinking, curiosity, enthusiasm, and a strong work ethic.
220 Sinatra Dr, Hoboken, NJ 07030 – Phone: (201) 222-1464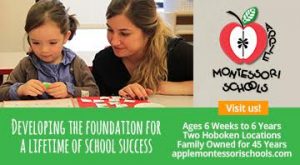 The Apple Montessori School's method is designed to constantly build upon the individual skills and knowledge the child is acquiring at every age level.
720 Monroe St Suite E105-106, Hoboken, NJ 07030 – Phone: (201) 755-5585
At Tessa International School, children are introduced to other languages and cultures to enhance their cultural awareness; they are bilingual and culturally adaptable.
255 Brunswick St #2, Jersey City, NJ 07302 – Phone: (201) 898-5437
Nurturing curious, inquisitive, and entrepreneurial minds is the cornerstone of The Embankment School's approach. The Embankment School seeks first and foremost to foster and cultivate each student's love of learning and inspire understanding from self-driven experimentation, examination, and investigation.
324 Communipaw Ave, Jersey City, NJ 07304 – Phone: (201) 706-3403
Bergen-Lafayette Montessori School is a dual-language (Spanish / English) preschool, kindergarten, and lower elementary school offering an affordable, high-quality education for children 18 months – 9 years old.
242 10th St, Jersey City, NJ 07302 – Phone: (201) 309-0440
The Garden Preschool Cooperative (GPC) is a parent-run nonprofit preschool that seeks to provide high-quality progressive early childhood education in a nurturing atmosphere.
422 Willow Avenue, Hoboken, NJ 07030- Phone: 201-653-5548
Mustard Seed School is a progressive, arts-infused, Christian school for PK-8th grade in Hoboken, NJ. Our curriculum focuses on academics, arts, faith, and service to educate the whole child.
194 Newark Ave, Jersey City, NJ 07302- Phone: (201) 963-8533
Smile Preschool provides a secure, learning, and nurturing environment for your children. Not only will your child learn the ABCs and 123's but they will also learn honesty, respect, and self-reliance.
AFTER SCHOOL ACTIVITIES
389 Washington St, #31K – Phone: (201) 676-3630
The British Swim School has been teaching water survival and swims lessons to over 13,000 nationwide. Babies from 3 months old to adults have the opportunity to participate in classes all over Hudson County.
225 Morris Blvd Jersey City, NJ 07302 – Phone: (201) 844-8535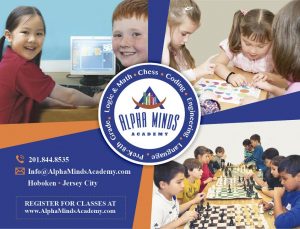 AlphaMinds Academy, located in Jersey City and Hoboken, is an enrichment program that provides students of all ages and abilities the chance to pursue academic interests in a fun, creative atmosphere.
47B Harrison St, Hoboken, NJ 07030 – Phone: (973) 665-2051


Founded on the belief that musical training can positively impact many different areas of life, Tonal Arts Music Center is dedicated to providing quality, focused, results-oriented lessons to students of all ages.
125 1st St, Jersey City, NJ 07302 -Phone: (201) 360-2450
Zaniac is an after-school and summer camp STEAM-enrichment (Science, Technology, Engineering, Art, and Math) program. This program is for children grades K-8, and your child will enjoy learning in a high-tech environment filled with friends!
321 Communipaw Ave, Jersey City, NJ 07304
Luna de Papel (paper moon) is a crafting workshop. They offer crafting and DIY classes and workshops for adults and children of all ages. It is a place where all can test the bounds of their imagination in an environment you can enjoy. They also have a ton of after-school programs.
357 3rd St (At Brunswick Ave), Jersey City, NJ 07302
Code Wiz is a modern STEM learning center in Jersey City, NJ, where kids 7-17 learn to code, build robots, and learn critical problem-solving skills! They have courses for kids ages 5 – 18.
140 Bay St. Jersey City, NJ07302
JEI Learning Center is one of the country's top academic enrichment programs. The early childhood education centers offer customized programs designed to help students excel in their classrooms, year-round.