Outdoor Swimming Pools and Waterparks Opening Near Jersey City
Summer is here and we all know how much fun it is to splash in some cold water to refresh ourselves at a local pool or waterpark. Kids especially love going and enjoying a hot summer day in a waterpark or outdoor pool and luckily, under a new executive order by Governor Murphy, outdoor swimming pools are now open effective, June 22, provided that it complies with standards and policies that will be issued by the Department of Health. Additionally, outdoor water parks are allowed to open from July 2nd. We have created a list of pools and waterparks that will be open/opening this month.
Outdoor Swimming Pools
303 Van Horne St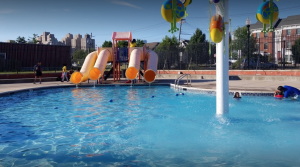 Lafayette Pool's location is very convenient to downtown Jersey City and Liberty State Park. They are opening on July 1st. The pool offers a kiddie pool with water features and a slide, a larger pool, and a snack stand. The center is open until September 9th, Monday – Friday from 7 am – 7 pm. (7 am -9 am for adult/lap swim only, 9 am – 10 am for free swim lessons for kids and 10 am – 7 pm for everyone). Weekend hours are 10 am – 6 pm. This pool is open only to Jersey City residents.
914 Pavonia Ave
Pavonia Pool is located in the West Side neighborhood of Jersey City. They plan to open on July 1st. The pool is open Monday, Wednesday and Friday from 8 am – 7pm (8am-9am for adult swim), Tuesday and Thursday from 8am to 5:30 pm (8 am-9 am for adult swim, 9 am – 10 am for free swimming lessons for children) and weekends from 10am – 6pm. This pool is only open for Jersey City residents.
906 Palisade Ave, Union City
The pool will open up on July 1st. To use the pool you must have a Hudson County photo ID. No one will be admitted without proper swimwear. If you have any questions/concerns regarding the schedule, please contact Bruce Walter Recreation Center at 201-392-3696 or Ron Dario Swimming Complex at 201-867-4496 between 7am – 3pm. There are specific guidelines that have to follow if you would like to visit this pool. Read them here. 
Waterparks
428 Moseywood Road, Lake Harmony, PA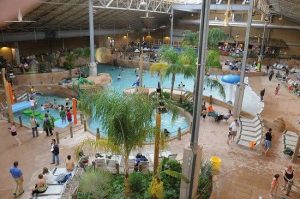 Located in Lake Harmony, PA, this indoor water park has over 53,000 feet of fun! This park has three 4-story waterslides, a wave pool, activity pool, jungle gym, dumping bucket. Split Rock Resort Plans To Reopen H2Ooooh! July 1st for waterpark fun inline with current attraction directives. You can find more information here. 
200 Route 94, Vernon, NJ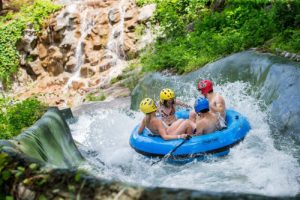 Did you know this ski resort turns into a fun water park and attraction during the warm summer months? They are reopening their park on July 2nd for the summer. Read more of their policies for COVID-19 here. The park is located in Vernon, NJ, and is about an hour and a fifteen-minute drive from Jersey City. The park feature 22 wet attractions, which are separated into four different zones. These zones include an area for the youngest kids, the world's tallest double looping thrill slide Zero-G (!), cliff jumping, white water rafting, water slides, and more.
380 Dunhams Corner Road, East Brunswick, NJ
The Crystal Springs Family Waterpark opens up on July 3rd. Tickets for the 2020 season are now available! The daily admission rate will be $15/person and will only be available for purchase online. Once 250 tickets are sold there will be no additional tickets available for that day. You will be able to purchase tickets in advance for dates throughout the summer by going to the Ticket Sales Page. You must purchase a ticket for every individual coming to the park and only those individuals with tickets purchased for the day of your visit will be able to enter the park. Tickets will not be sold at Crystal Springs. Read more here. 
300 Taylor Ave, Beach Haven, NJ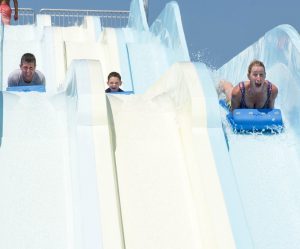 Thundering Surf is happy to announce their opening day is July 2nd. All protocols will be in place to ensure the safety of all! Hours 9:30-5:30 pm. Thundering Surf Park is around 1 and 45 minutes from Jersey City but it is totally worth it. They have something for everyone including a toddler area, lazy river, multiple tube slides, and more!
535 NJ-73, West Berlin, NJ
A day at Sahara Sam's is perfect for the family. They are reopening on July 2nd. All visitors (season pass holders, prior ticket purchasers and those purchasing new tickets) will need to make a reservation prior to visiting. Sahara Sam's Oasis Indoor and Outdoor Water Park of West Berlin, New Jersey was founded in March of 2009. The facility offers families of the greater Tri-State community affordable, high value entertainment the entire year with 58 of its 68-thousand square feet under a retractable roof system. Park features include arcade systems, surfing simulators, a wave pool, leisure swim areas, numerous water attractions, slides and more.
275 Beachway Avenue, Keansburg, NJ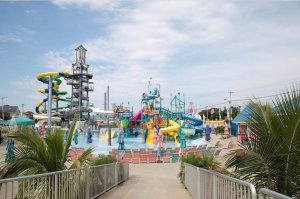 Perfect for the whole family, Runaway Rapids is now open. Runaway Rapids is about an hour away from downtown Jersey City. They have a ton of water park activities from giant slides to a lazy river. You have to wear a mask when waiting in line and social distancing precautions are being taken at the park to keep everyone safe. You can find more information here. 
354 Great Meadows Road – Rt. 611, Hope, NJ 07844
This is a family water park and amusement park which is about an hour away from Jersey City is now open. Pirate's Cove is filled with amazing rides for kids of all ages which includes America's Largest Wading Pool, pirate-themed water slides and rides, and a water playground. Face masks and social distancing are required. Low Pay-One-Price Admission includes ALL Rides, Shows, Attractions, Family Picnic Grove, and WaterPark! FREE Parking! Adults: $33.00 and Children (3-18): $33.00.