Pet Services In Jersey City
Pets are a big part of our family and amazing companions and we know how essential it is for you as a pet parent to find the best person to take care of your furry friend. After three harrowing and nerve-wracking surgeries (and $17,000 later), we know how challenging finding the right vet can be. It's crucial to be aware of the nearest 24-hour emergency surgery center to provide optimal care. Our furry family members bring us love, cuddles, laughs, companionship, etc. It is only natural that we should want the best for them.
So how do you find the best vet, daycare, dog walking, boarding, acupuncture, and grooming services? What about dog parks, dog-friendly establishments, and public parks? Let's explore the array of pooch-friendly and cat-lover options Jersey City offers.
Downtown Woody's Grooming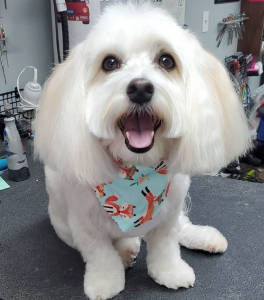 Located in the heart of downtown Jersey City, Downton Woody's Grooming is open for all your pet grooming needs. They work to help every dog or cat look and feel exceptional. As dog owners themselves, they promise to treat each dog as their own. They are committed to love, care, patience, and kindness with all their clients (both on four legs, or two!). They have a ton of grooming options.
Urban Dog

Urban dog is Jersey City/Hoboken's newest and most complete dog/pooch/lap dog/puppy/fur baby – care providers. Urban Dog founder, Jaymie Moran, founded HOB/JC primary and most relied upon dog walking company 15 years ago. At Urban dog, we make it our mission to turn dog walking, doggy daycare and grooming into a treat for your dog. No, we're not crazy, and yes, this is possible! It just takes a different mindset and a fresh approach to our services.
Executive Dog Lounge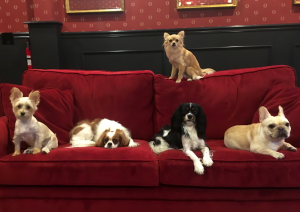 Jersey City's only luxury dog daycare establishment focuses on little ones. With a maximum of 6 guests per team member, they provide hands-on care and personal attention to every dog. If you are looking for your dog to have a luxurious experience, definitely check them out. Conveniently located behind City Hall, drop off your pup on your way into work downtown, Exchange Place, Harborside Financial, Newport, or walking to Path Train at Grove St. Call them at (201) 451 – 0672, to setup a visit, a meet & greet with your pup, or just to ask us about our passion and vision for the future of dog care. "Everything for the dogs!"
Tails On Trails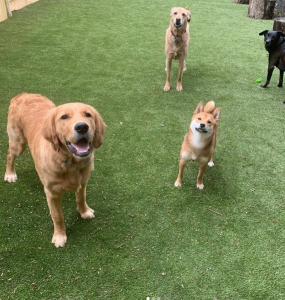 Whether you're away for work or pleasure, you can in fact entrust your pets to Tails On Trails. They truly believe in premium pet care, because nothing else will do. With their In-Home Pet Care Services, your furry family members will receive love and individual attention to meet your pet's emotional and physical needs. Tails On Trails will give you peace of mind knowing your beloved pets are comfortable at home with the care they deserve! They have many services like doggy day camp, cat sitting, coaching, and boarding.
K9dergarten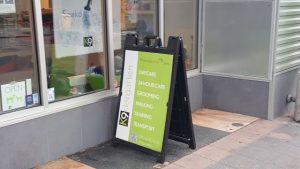 K9dergarten is located in the heart of historic downtown Jersey City. They are dedicated to improving the lives of dogs through innovation in an active, loving, and healthy environment because they are committed to providing the best care for our best friends. They offer many services from dog boarding/camp and grooming so there is an option for all.
Palisades Pup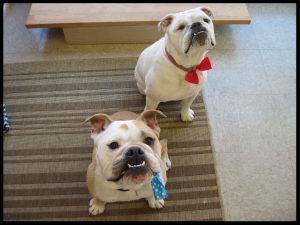 Palisades Pup has you covered from dog walking to cat sitting. They strive every day to serve the community with the best quality professional pet services in the industry. They do everything from dog walking, doggy day camp, and boarding so there is something for everyone.
Tamed Paws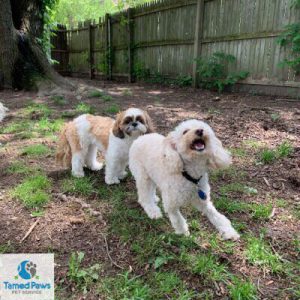 At Tamed Paws they don't just believe that your pet is family, they act like they're their own family. With trained staff that are ready to take care of your loved ones whenever you might need it, they believe that you are in exceptional hands with them every time you call. They offer doggy care, boarding, cat sitting, and dog walking.
Jersey City Unleashed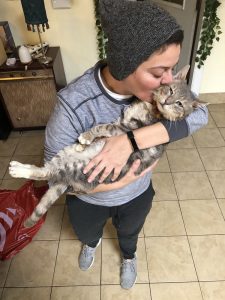 Jersey City Unleashed is like a pet resort in the tri-state area, where summer never ends for dogs and cats. Their 3/4 acre resort brings a fun and relaxing oasis for pets. They offer all types of services from day camp, grooming, pet hotel as well as swimming. They are open for all your pet needs. With a half acre of playroom, your best friend will be able to run and play at a full pace or just relax in the sun.
Trusty Tails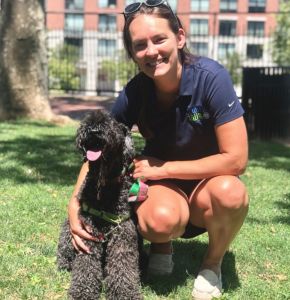 Trusty Tails is a full-service pet-care company serving New Jersey and New York. Launched in 2006, they provide 24/7/365 services through a team of professional, pet-loving caregivers. Our services include pet sitting, dog walking, and overnight pet care in your home.
Glamour Pet Salon & Vanity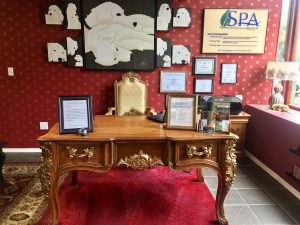 At Glamour Pet Salon & Vanity they offer their clients a new concept of care for their pets. Glamour Per Salon is the only grooming salon in the city certified by the American Kennel Club as AKC S.A.F.E. This luxury pet spa with all its amenities and services is specifically designed for the little spoiled ones. They strive to spoil, love, and offer the best possible care to their client's beloved pets.
You Lucky Dog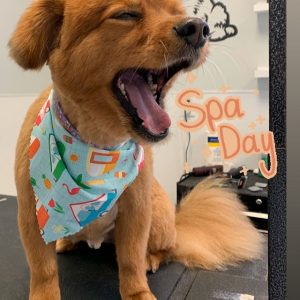 Dogs will be in the care of one dedicated groomer in a clean and aromatherapy-infused salon. This will make your pet's visit with them is as enjoyable as possible. They offer a variety of grooming services and all salon packages include the following: two cleansing baths, conditioning treatment, hand-blown & fluff drying, nail clipping, ear cleaning & plucking (if applicable), bow or bandana. Any additional services will be noted in the packages with the starting price so actual pricing will be determined by breed, coat condition, and behavior.
Vets
Sage Veterinary Center
Sage Veterinary Center is a women-owned business founded on principles of individually tailored, high-quality medicine presented with total transparency. Jersey City's dynamic and exciting community is what initially attracted these veterinarians to plant their roots. As Jersey City residents, they could not deny their urge to contribute to the love and culture this community radiates. Their founding veterinarians have worked to build a veterinary practice that takes a unique approach, one founded on principles of quality, transparency, and individually tailored medicine.
Veterinare Pet Care
Veterinare Pet Care is a full-service general practice. They care for your pets as much as you do. Their services include wellness exams, vaccinations, treatment of most illnesses, in-house bloodwork, X-rays, abdominal surgeries including spays/neuters, and many other services. Addtionally they aim to provide the most affordable and competent pet healthcare in the area. Dr. Waxman grew up in Bergen County and has been an animal lover his whole life. He received a BS in biochemistry from Northwestern University before going on to veterinary school. Dr. Waxman graduated from the University Of Pennsylvania School Of Veterinary Medicine and has been treating pets in Northern NJ for the past 5 years.
Downtown Veterinary Associates
Downtown Veterinary Associates animal hospital was founded in 2004 and is staffed with veterinarians who are dedicated to providing high-quality care for your pet. In addition to being a full-service veterinary hospital, this location is also a laser center and is our primary acupuncture center. Dr. Michael Tuder was born and raised in Jersey City, and after becoming a veterinarian he returned to the area to begin practicing. A warm and caring veterinarian, Dr. Tuder has been practicing in Hudson County since 1982.
Animal Clinic & Hospital of Jersey City
When a pet patient enters their office with their parent, that patient's health and well-being become their primary concern. Their staff is dedicated to upholding high veterinary standards to provide your pet with superior care in a welcoming, relaxed environment. Animal Clinic & Hospital of Jersey City offers comprehensive veterinary services so they can cater to every aspect of your pet's health and wellness throughout their lives. By offering everything from grooming to surgery, we can be there for your pet no matter what.
Newport Veterinary Center
Newport Veterinary Center is a full-service animal clinic providing comprehensive healthcare services to pets in Jersey City and the surrounding areas. Their veterinarians offer a wide variety of medical, surgical, and dental services in our veterinary clinic. Addtionally, the veterinary clinic is well equipped with advanced equipment and technologies to provide the highest standard of care for your pet. Their facility has the equipment to provide comprehensive in-house testing for accurate diagnosis, digital x-ray, ultrasound, surgical suite, dental suite, pharmacy, and more.
Heights Veterinary Associates