15 Best Pizza Spots in Hoboken
If there is one meal that everyone loves, it's pizza! Whether you are looking for a classic Margherita pie, pepperoni, or a unique slice Hoboken had a variety of options. Therefore, we've created a list of The Best 15 Pizza Places in Jersey City to satisfy the ultimate pizza lover! If you are looking for some other Italian restaurants in Hoboken, check this guide out. This blog has the best Pizza in Hoboken
1118 Washington Street + 133 Clinton Street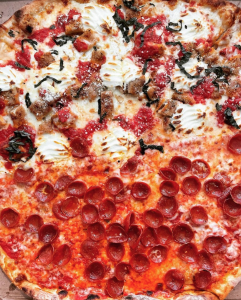 With its true Neapolitan style pizza, fresh pasta, paninis, and wraps, there's something for everyone. Frank Volpe learned the business at Lombardi's Pizzeria, located at 32 Spring Street in Soho. One of NYC's busiest pizzerias, you can be assured that he knows his craft! With a crust that's super thin and quite crispy, plus a sauce that's a little bit spicy (but never overused), this unassuming spot's pies are always on point. Favorites like the vodka pizza, the white pizza, and the clam pie.
622 Washington Street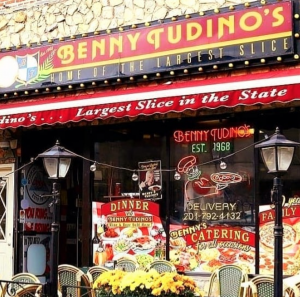 Dating back to 1968, Benny Tudino's is a classic old-school pizzeria with probably the largest slices you've ever seen. They have been in business for over 50 years. It's also less probably some of the best Jersey-style pizza you'll ever see and features a sweet, tangy sauce that sets it apart.
411 Washington Street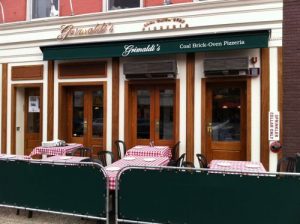 The only true coal brick-oven pizzeria in Hoboken where they specialize in turning out authentic Margherita-style pizzas fired at 1000 degrees in our custom-built coal-burning oven. This is a classic to try if you want a delicious pizza in Hoboken. Grimaldi's have a unique, coal-burning brick oven that they attribute to their delicious success. They re-stock the oven with new coal each and every day and create gourmet pizzas that are to-die-for. All of their ingredients are fresh and made from scratch. They have other options too like pastas and salads.
219 11th Street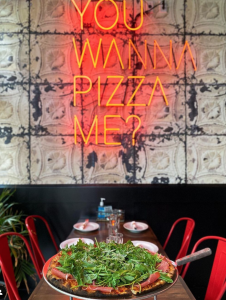 Local restaurateur John Avoletta, the owner of uptown eateries City Bistro and Lua, remembers that when he was a kid, his grandmother would steal his winter coat to cover her rising pizza dough. Now, after countless pies of his own and two decades in the restaurant business, he's opened his first Italian kitchen and pizzeria, Johnny Pepperoni. Addtionally, Johnny Pepperoni is dedicated to providing an excellent dining experience and serving delicious Italian entrées and outstanding pizza. It's also perfect to go with the kids.
525 Sinatra Drive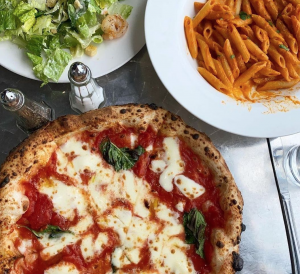 Blue Eyes is not one to miss. They literally own a wood-burning oven made out of bricks that have been flown from Naples, Italy, to offer you the most authentic pizza Napoletana. Their restaurant sits on the Hoboken waterfront facing the gorgeous view of the New York City skyline. During the spring and summer months they provide outdoor seating accompanied by a gelato stand and a raw bar so you can come and enjoy the view. During the winter times, they have a heated patio area with clear panels, so you can still enjoy the view.
1319 Washington Street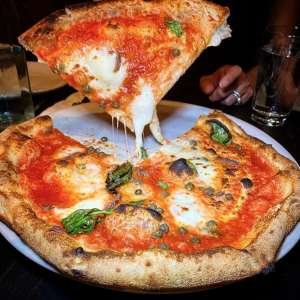 Apulia in Hoboken is offering a beautiful outdoor setup in their backyard with a tented area. Enjoy some Italian eats and drinks. Also, they have a lot of delicious options on their menu from pizzas, pasta, meatballs, salads, and more. The restaurant is very romantic and perfect for a family dinner or date night.
263 1st St, Hoboken, NJ 07030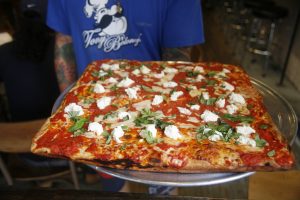 Originally from Atlantic City, Tony Boloneys is perfect if you are looking for some unique options. They have it all. They are known for their unique creations like taco pizza, ramen pizza, tikka masala pie, and so much more. If you leave without trying their pizza, you don't know what you're missing.
102 Washington St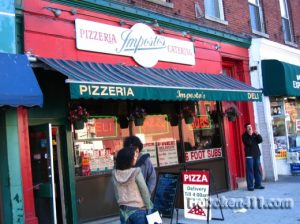 Located right near the PATH, customers love Imposto's for high-quality ingredients with the delicious pizza they order. They have a ton of options but are known for the best Buffalo chicken pizza in Hoboken. The owners have revamped the pizzeria to include their own unique recipes.
1320 Adams St Hoboken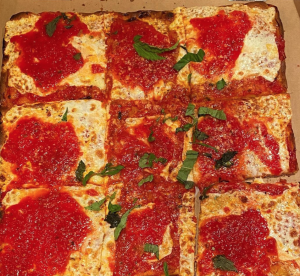 San Giuseppe is been around for while delivering delicious Italian cuisine. This homey restaurant showcases gourmet savory & sweet pizza toppings as well as traditional Italian dishes. You can enjoy their coal-fired pizzas, homemade pasta, delicious entrees, and scrumptious desserts. If you want a romantic restaurant for gourmet coal-fired pizzas, this is your spot.
720 Monroe St, C105, Hoboken

Panello is a blending of fresh, traditional Italian fare (piatti piccoli) and artisanal pizza centered around an authentic wood burning oven (forno a legna) baked bread (pane). Owners Iggy and Frieda Sciancalepore invite you to share their passion for fresh, simple, authentic Italian food and original creations by Chef Iggy in the new Monroe Center in Hoboken.  The menu is the perfect size to try something different each time you come. They are BYOB as well.
740 Washington St, Ste 1, Hoboken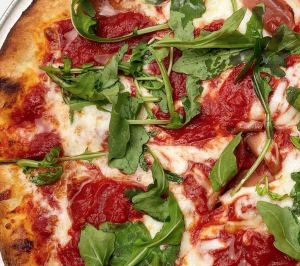 Dine out with family or friends at Margherita's Pizza and Cafe. Brand new to Hoboken, this restaurant serves a variety of tasty Italian dishes but their pizzas are not one to miss.The sauce and dough are made fresh on-site — and both are very good. Margherita's Pizza and Cafe has appetizers like fried calamari with a side of marinara sauce, stuffed mushrooms, and zucchini sticks. The main course of chicken marsala, cheese-filled ravioli, shrimp primavera, or penne vodka will fulfill the appetite. They also serve pizza, including specialty options, calzones, and sandwiches. One of the best Pizzas in Hoboken
743 Park Ave, Hoboken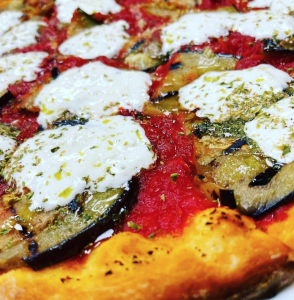 Otto Strada is Italian cooking at its finest; simple foods made with high-quality ingredients in a wood-burning brick oven. Otto Strada is a traditional Italian restaurant. Most, if not all, of the dishes on Otto Strada's menu, are family recipes handed down from generation to generation. The restaurant is also BYOB. The pizza is their specialty of which there are several both red and white varieties. Some of the favorites include crispy prosciutto with tomatoes, goat cheese, homemade mozzarella, fresh basil, and prosciutto di parma as well as a simple, but delicious, four-cheese with ricotta, mozzarella, caciocavallo, and Parmigiano Reggiano.
89 Washington St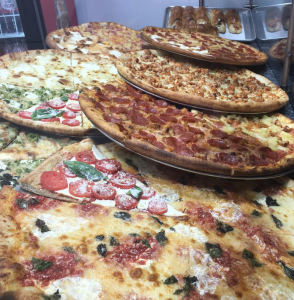 Basile's is located between the train station. The crust here is very crispy and they use fresh ingredients to make their sauce amazing.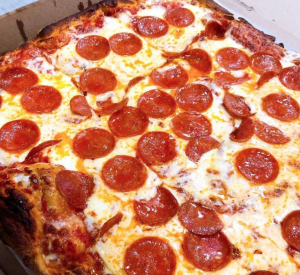 Torna looks a lot like a basement rec room that hasn't been renovated since the 1970s, but if you can get past all that, it's still one of the few places in Hoboken you can get a Sicilian-style pizza. This is a perfect spot to grab your favorite slice or get takeout.
1314 Washington Street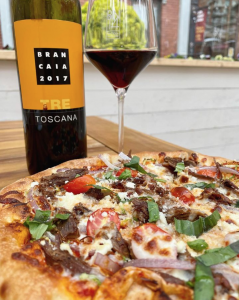 When Bin 14 opened in November 2008, it established Hoboken's first and only wine bar. The restaurant features a contemporary blend of upscale Italian tapas (small plates) in an industrial-chic space with exposed brick walls, tin molded ceilings and a marble top bar. They also have a brand new patio that is perfect for the summer. If you are looking for a more lighter options and would like to enjoy wine, check them out. They have a variety of delicious pizzas, which really are the best Pizza in Hoboken