Top Restaurants For Date Night in Jersey City
"Date night" can mean many different things, whether you're just getting to know someone, enjoying dinner as a couple, or celebrating something special like an anniversary; a romantic restaurant is always a great option. So if you are looking for the perfect date night spot, we've got you covered! Luckily, Jersey City is filled with restaurants with ideal date nights, and we have rounded them up for you. Here are the top 15 Jersey City Date Night Restaurants.
Franklin Social
292 Barrow St, Jersey City, NJ 07302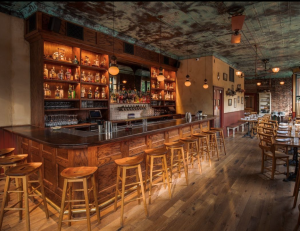 Franklin Social – Tavern & Garden is a new restaurant and bar inspired by Ben Franklin, offering a modern take on the American tavern. Additionally, they have a ton of delicious cocktails and wine and beer. Their menu has a ton of variety, from seafood dishes to steak and vegetarian options.
Porto Leggero
185 Hudson St, Jersey City, NJ 07311
Porto Leggero is an upscale, chandelier-filled venue serving Italian fare in a high-ceilinged space with tall windows. Located on the waterfront, you will find many delicious Italian options. They have two menus, "Signature and Traditional," with unique options. From pasta to ravioli and a great wine list, they have everything you would want from an excellent Italian restaurant. It is also highly romantic inside.
The Kitchen Step
500 Jersey Ave, Jersey City, NJ 07302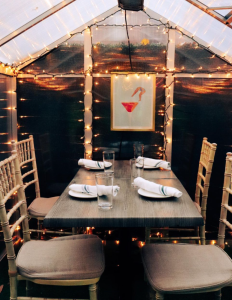 The Kitchen Step is a neighborhood modern-American bistro in the downtown Van Vorst section that celebrates Jersey City's rich history and delivers thoughtful market-inspired cuisine and craft cocktails in an intimate and inviting atmosphere. Just as appropriate for an after-work drink as for a full-course dinner, The Kitchen Step offers a market-inspired modern American menu marked by executive chef Ryan DePersio's creative, flavorful interpretations of classic American cuisine.
Corto
507 Palisade Ave,

Jersey City, NJ 07307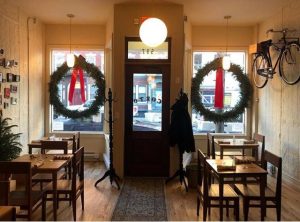 Located in Jersey City Heights, Corto is an authentic Italian gem. The concept of Corto is simple — to deliver affordable, rustic Italian dishes, and they do that perfectly. They don't have a vast menu, but they do offer simple, affordable, and rustic Italian dishes. From a yummy rigatoni to gnocchi to their angry stewed chicken, you can find something for each of you.
Cellar 335
335 Newark Ave., Jersey City, NJ 07302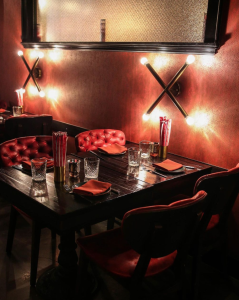 Looking for a spot with delicious food, tiki cocktails, and a stellar ambiance? Check out Cellar 335. Cellar 335 describes its menu as progressive American cuisine with Asian accents and tiki-style cocktails. Joshua Fossitt will craft cocktails. If you want some tiki cocktails, they are your spot. They have solid and yummy individual cocktails. Their menu is filled with some unique flavors too! Therefore, it's the perfect spot to try for date night.
Hudson & Co.
3 Second Street, Jersey City, NJ 07302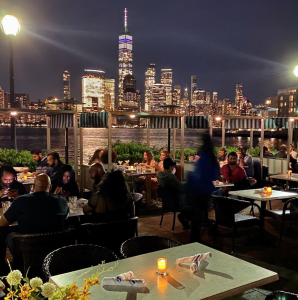 Looking for a dinner spot with the perfect view for your date? Hudson & Co. is the one for you. It stands on the waterfront within the rapidly evolving Harborside district in Jersey City. The entire establishment also features multiple indoor and outdoor dining options and boasts views of the Manhattan skyline across the historic Hudson River. Besides having a beautiful view, you can indulge in a wide variety of food options, including; crunchy tuna tartare rice cakes, sashimi/sushi roll selection, artisanal wood-fired pizzas, wild-caught arctic char, a 40-day dry-aged NY Strip, as well as homemade delicata squash ravioli with sage.
Roman Nose
125 Newark Ave, Jersey City, NJ 07302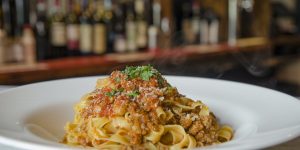 Roman Nose, Downtown Jersey City's authentic Italian food destination, is the culmination of Maria and Ruggero Fiore's journey from a small farming village in the Lazio region of Italy to the heart of JC's blossoming culinary scene. Together with their sons Frank and Raymond, they wanted to create a warm, welcoming, and relaxed trattoria atmosphere to share their love of high-quality, simple, clean food using the freshest ingredients. They have many options: pasta, pizzas, eggplant parmigiana, salads, and soups. This is a perfect spot for Jersey City Date Night Restaurants! Additionally, they have outdoor seating during the summer too.
ITA Italian Kitchen
682 Bergen Ave, Jersey City, NJ, 07304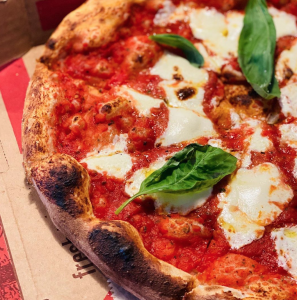 ITA Italian Kitchen is Jersey City's gastropub from talented Chef Dylan Golden, known for his work at Upland in Manhattan and inspired by the best Italian bistros, ITA Italian Kitchen honors old-world Italian roots, lifestyle, and food with a modern touch. Specializing in Neapolitan-style pizza, house-made pasta, and local seasonal produce. ITA's full bar offers a selection of 20 draft beers, a thoughtfully selected wine list, and classic cocktails. Gluten-free pasta and vegan pizza are available and very popular. It is a small space, so do make reservations.
The Hutton
225 Hutton St, Jersey City, NJ 07307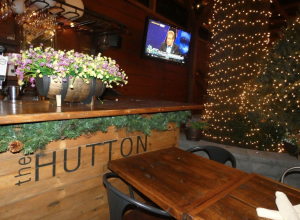 The Hutton is a neighborhood restaurant, bar, and wine bar located between Sanford Place and JFK Boulevard (on the corner of Hutton Street and Sanford Place) in the Heights of Jersey City. They are serving delicious cuisine, with menu items ranging from classic fare like Chopped Brisket & Gnocchi, Prosciutto Wrapped Salmon, Hutton Burger, and Crispy Cod Fish and Chips to vegan options like Apple Guacamole, and Sweet Potato Tamale. A perfect Jersey City Date Night Restaurants spot.
Lokal JC
Two 2nd St. Jersey City, NJ, 07302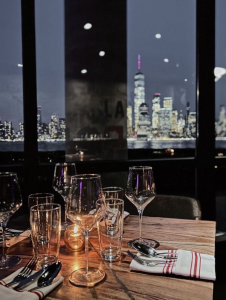 Lokal is a culinary hub for Jersey City's global culture. Lokal showcases ingredients sourced locally from the Garden State and transformed into worldwide flavors by Michelin-trained Chef Walter Donadio. Craft cocktails and an extensive wine program complement small plates with a global focus. Combine that with a remarkable space in design and comfort to host Jersey City residents; dining at Lokal will not disappoint. They also have a fantastic view of Manhattan and are right by the super romantic waterfront. In addition, they offer Gluten-Free, Dairy-Free, Vegan, and Vegetarian options.
Panello
720 Monroe St,

C105,

Hoboken, NJ 07030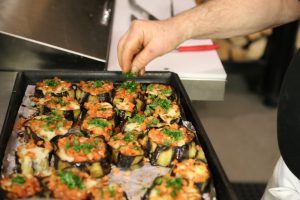 Panello is a blend of fresh, traditional Italian fare (Piatti Piccoli) and artisanal pizza centered around an authentic wood-burning oven (Forno a legna) baked bread (pane). Owners Iggy and Frieda Sciancalepore invite you to share their passion for fresh, simple, authentic Italian food and original creations by Chef Iggy in the new Monroe Center in Hoboken. The menu is the perfect size to try something different each time you come. They are BYOB as well.
Margherita's
740 Washington St,Hoboken, NJ 07030
Brand new to Hoboken, Margherita's Pizza and Cafe serves various tasty Italian dishes and appetizers like fried calamari with marinara sauce, stuffed mushrooms, and zucchini sticks. The main course of chicken marsala, cheese-filled ravioli, shrimp primavera, or penne vodka will fulfill the appetite. They also serve pizza, including specialty options, calzones, and sandwiches. The inside is very cozy and romantic.
DOMO DOMO
200 Greene St, Jersey City, NJ 07311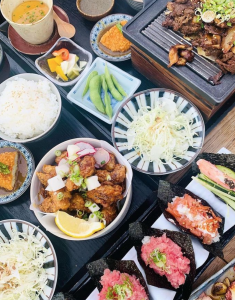 DOMO DOMO first started as the First Hand Roll Bar in NYC in 2015, now known for its signature tasting course called DOMOKASE and other Asian-inspired dishes. They have now expanded over the Hudson into Jersey City! The menu is constantly updated as Chef Brian experiments with new combinations, using the season's freshest ingredients. In conclusion, this is the most high-end sushi spot in Jersey City.
Los Cuernos
499 Washington Blvd, Jersey City, NJ, 07310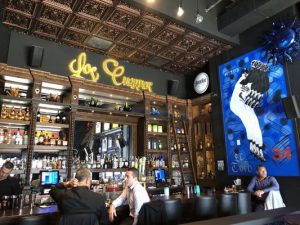 The Mexican food scene grew in Jersey City this year. Los Cuernos was another one of those restaurants added to the list in 2019. The new restaurant comes from Andrea and Phil Barraza, who own Taqueria Downtown. This spot is serving up some delicious Mexican food and your favorites. From street tacos and steak to burritos, they have it all. Also, their margaritas are too yummy to pass up. It is located in the heart of Newport near the waterfront.
The Hamilton Inn
708 Jersey Avenue, Jersey City, NJ 07302
The Hamilton Inn, nestled in the Hamilton Park Neighborhood and steps away from Hamilton Park, is a perfect spot to have a romantic dinner out. There is both indoor and outdoor dining and a spacious bar. The menu describes the food as simple, sustainable and good.
Jersey City is one of the best places around to enjoy a cozy evening out. And after you dine at one of the many restaurants we have suggested don't end the evening there! Why not check out some of the nightlife JC has to offer. Or maybe take a stroll through one of our many beautiful JC parks.
Updated November 2023