Academy Of Excellence Preschool in Jersey City
Academy of Excellence Preschool has been operating at 159 2nd street in Jersey City since 2010 under the World of ABC. To celebrate their 10th year anniversary they are evolving into Academy of Excellence Preschool. The school will be rebranding, improving, and expanding its already successful academic program.
At Academy of excellence Preschool, they believe in nourishing each child & curiosity, by opening their mind to the endless world of possibilities before them. They make sure that every single one of their students is encouraged and guided to achieve their greatest potential. The school is known for turning mirrors into windows so that each child will have a solid foundation to see their path to success.
Academy of Excellence Preschool is a prestigious early learning center in the heart of downtown Jersey City. Owned and operated by Dorota Mani who has led the school for 10 years now in the same location, as a director. Her two beautiful daughters were the inspiration and driving force, behind this exciting educational endeavor. Though her children are now moving into middle school and high school, she takes pride in continuing to foster a love for learning in our JCT youngest community, who continue to attend her academically acclaimed school. To celebrate the 10th year anniversary of Dorota's educational leadership in JCT, we decided to look through her teacher's eyes. On many occasions, we have heard Dorota proudly talk about her team of educators, each coming to her school with passion for teaching and a wealth of experience in the early childhood setting. We hope you will enjoy this glimpse into AOE as we did. It has been a pleasure to get to know some of the AOE staff and hear what the teachers had to say.
About the Owner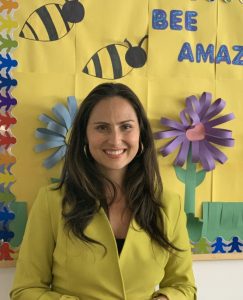 Dorota Mani has been serving the
Jersey City
Educational Community since 2011.
Academy of Excellence Preschool
is her third educational endeavor in Downtown Jersey City. She believes in nourishing each child's curiosity, by opening their mind to the endless world of possibilities before them. As an owner, she makes sure that every single one of Academy of Excellence Preschool students is encouraged and aided to achieve their greatest potential.  Dorota Mani graduated with a master's degree from Pratt Institute and currently seats on the board the University of Phoenix and Hudson County Work Force Development.
Dorota Mani started the Academy of Excellence Preschool in 201o as an educational platform for her own children. The school quickly grew from 50 students to currently 125 students at her 159-2nd street location. In 2020, she decided to celebrate the school's 10-year anniversary by rebranding, changing the name to Academy of Excellence Preschool, re-designing the state-of-the-art facilities, and expending her already successful academic program.
Curriculum at Academy of Excellence Preschool Jersey City
The teachers and administration at Academy of Excellence Preschool take much pride in the school's curriculum.  Their top priorities are student's happiness, safety, academic progress as well as social and emotional development. Early education is the most crucial time in a young child's life, therefor their intention as educators is to create an age-appropriate stimulating environment with a challenging academic atmosphere.  Within their home away from home setting, they provide students with encouragement, motivation, and support, throughout their learning and growth process.  It is their goal to inspire all the students to grasp a love for learning as they address the major subject areas such as mathematics, language arts, social studies, science, and arts.
Their curriculum is carefully planned out to provide the necessary steppingstones and goals for our students the be able to successfully move on to the next grade level. Their stimulating learning centers encourage academic advancement and social growth from the beginning to the end of the school year.  Academy of Excellence Preschool would love to welcome you to their extended family.
Safety Precautions during COVID-19
At Academy of Excellence Preschool, they aim for success in everything that they do. they are up for any challenge. At the Academy of Excellence Preschool, safety is their top priority, especially during the global pandemic. Opening during the global pandemic was not an obstacle but a way to look outside of the box and improve their operations. Not only they are following all the CDC guidelines and state requirements but are doing much more. The school completely re-branded their classrooms. All carpets and toys made of cloth were removed. Each child has their own personal desk and chair, set of supplies, books and manipulatives. At the door, students are welcomed by teachers and asked to change their outdoor shoes into indoor shoes. Academy of Excellence Preschool is lucky to have 6 separate entrances, allowing them not to mix students and parents during drop off and pick up. At the drop-off, everyone's temperature is measured, hands sanitized, and daily CV19 questionnaire conducted. The children are wearing masks throughout the day and if one of the little campers refuses to do so, they will be provided with fun protective shields. The physical space of each classroom is sterilized and steamed every single day.  To ensure social distancing, teachers are using hula-hoops to mark each student's personal space. Their challenging academic program is still implemented daily while the little explorers have a chance to socialize with their friends. The school has full time, on-site dedicated Nurse, who oversees each classroom's operation, making sure that students are happy and healthy every single day.
Academy of Excellence Preschool cares about the psychological well-being of its students. Ensuring that students feel comfortable and safe in their school environment helps them positively develop socially and emotionally. A child that feels safe will be more inclined to focus on learning, developing, exploring, experiencing the world around them, and having fun!
Location and Programs: Academy of Excellence Preschool Jersey City
Academy of Excellence Preschool is in the heart of
Downtown Jersey City
. Two blocks away from the light rail and 5 minutes away from the Grove Path Train station. Their address is 159 2nd Street, Jersey City, NJ 07302.
The school caters to preschool-age children and offers three academic programs to choose from:
Morning Program 8.30am-12.45pm
Full Day Program 8.30am-3.30pm
Extended Day Program 7.30am-6.00pm
At Academy of Excellence Preschool, they understand the difficult decision parents are faced when searching for the right school for their child. They understand that each child is unique and has their own talents, gifts, and interests. Their learning environment, program, and culture have been carefully designed to foster a lifelong love of learning through a hands-on curriculum facilitated by the best and brightest educators and housed in a State of Art Facility. Through a wide variety of curriculum enhancements, on and off-campus learning opportunities, 21st-century technology and dramatically reduced teacher/child ratios. Academy of Excellence Preschool sets the standard for high-quality childcare geared towards your child's developing needs.
Extra-Curricular Activities
Academy of Excellence Preschool promotes the use of ecofriendly and natural materials, recycled supplies, and green and sustainable cleaning products. Their Classroom Centers consist of Library, Listening Center, Writing Lab, Sensory Center, Art Studio, Mathematic Center, Geography & Multicultural Studies Center, Science Lab, Blocks & Architecture Center, Music Center, Gym, Public Speaking Center, and their outdoor urban gardens. The school provides a variety of Enrichment Programs on a daily basis, such as: Chess, Karate, Ballet, Soccer, Musical Theatre, Science, Spanish, Spanish, Swimming, Fitness, Cooking (Classes dependent upon the state, licensing, and CDC safety guidelines as per Global Pandemic).
Academy of Excellence Preschool is proud to have two outdoor urban playgrounds available for their students at the front of their facility and 3 organic gardens on their back balconies. Since the outdoor facilities are dedicated to our students only, they can ensure safety and cleanliness every single day.  The school provides a variety of organic and natural snacks for their students (dependent upon state, licensing, and CDC safety guidelines as per Global Pandemic).
Academy of Excellence Preschool would like to introduce their Progressive Virtual Classroom! 
Virtual Classroom is where personalized education meets individualized growth among a social community of learners. Academy of Excellence Preschool is proud to offer virtual preschool education for their students. Learning and development can take place in the safety of your own home! COVID-19 has interrupted learning for several months now; however, it has opened up endless possibilities for changing and enhancing our continued academic growth and development. It is true, education will never be the same. As their preschool has always been progressive and open to educational enhancements, they are ready to take on the new challenge of growing our already successful program and expanding it into state-of-the-art virtual classrooms.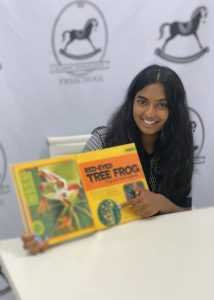 Their virtual classroom is designed to enhance student's academic success, there social and emotional development as well as keeping in mind parents' busy schedules. The program incorporates the following key features:
They will deliver a state of the art facility into your home. A box with supplies will be mailed monthly to your home to support their daily curriculum. Students will receive books, manipulatives (such as: linking cubes, counting bears, play dough, Legos, etc.), academic and supportive materials (instructional and art materials) as well as academic equipment such as a microscope with supporting specimens, magnifying glass, and tweezer.
Progressive Virtual Classroom will not exceed 12 students per teacher.
Monday through Thursday, students will participate in daily one-on-one personalized sessions with their teacher to ensure personal and academic progress. This will guarantee that students are reaching academic goals, grasping concepts, being challenged, and stimulated while supporting their social and emotional development and needs.
Friday will be dedicated to "social gatherings" made up of 4 students and their teacher. "Fun Friday ", as they call it at Academy of Excellence Preschool, will empower students socially and emotionally. Students will engage in group conversations where they can express their feelings and opinions through verbal presentations (theater and public speaking), fun games, discussions, and a variety of projects (art).
Daily pre-recorded lessons will be uploaded onto our secure portal for students to engage in at a convenient time for them and their family. Our daily schedule will include subjects such as mathematics, language arts, science, and social studies.
To promote concentration and prepare our little explorers for a productive school day, we will begin each day by practicing daily songs, movement, and mindfulness exercises as a group.
Every student will be required to wear a uniform, in the form of a white polo shirt. This will nourish a sense of equality and community.
Please call them for more information regarding September 2020 Enrollment at ‪201-656-4444‬ or email then at ‪[email protected]‬
Interview With The Teachers:
Hi, my name is Alyssa and I am the Pre-K 4 teacher here at Academy of Excellence Preschool. I have 11 memorable years of teaching in an early childhood setting. I knew at the young age of 8 years old that I was meant to be a teacher. I absolutely adore doing what I love each day in this wonderful setting, as teaching is my passion! Academy of Excellence Preschool is a warm and welcoming school for not only students but teachers too! We work together as a family each day. Our goal is to create a home away from home for all! We are here to provide quality care and education as well as build lifelong friendships with all who walk through the doors of our classrooms. Our small teacher-to-student ratio allows us to challenge and attend to each child based on their personal learning needs. I have found great joy and have had such a wonderful experience during my time here at AOE. The setting, program, and curriculum allow me to teach in the most creative way possible!
Thank you, Ms. Alyssa for this beautiful introduction, I could not agree more. My name is Ms. Dawn and I am one of the PreK 3 teachers, here at Academy of Excellence Preschool. I have been educating young scholars for over 15 years now and I have quite a bit of experience and knowledge to know what it takes to teach in an amazing school. AOE is that school! All the educators here follow our immersive curriculum infused with STEAM and cover subjects such as Language Arts, Math, Social Studies, and Science. But this is not what drew me to this center. One of the wonderful perks about teaching AOE is that we can be as creative and resourceful as the lessons and our students require. Each day, my students learn, inquire, play, grow, and develop while investigating and discovering the wealth of knowledge that we are sharing with them. I have the privilidge to work with a great and supportive team of educators, including our director. This combination of professional respect and academic support makes teaching at the Academy rewarding and fun! But there is no one better to talk to about fun, then Ms. Anna, our virtual teacher. I will let her take it from here.
Thank you, Ms. Dawn. I could not agree more. Fun is a crucial part of my educational philosophy. Ever since I was a little girl, I knew I wanted to be a teacher. The passion I have for teaching our younger generation and watching them evolve both academically and emotionally throughout the year is what inspires me to be the best educator. For me teaching is not a job, it is my passion. I wanted to teach at a preschool that shared the same academic and personal growth beliefs as myself because I knew this is how I could truly flourish young minds. Having met the owner, Dorota, who was as passionate as I was in the field, I knew I had to be a part of this fabulous team. Dorota has a light that shines through and makes every student and myself feel right at home. She encourages me and her team to be the best we can be and always think outside the box while academically engaging our students. Without her constant support and willingness to let me take the lead in my classroom, I would not be half the educator I am today. Working at AOE has developed my skills while allowing me to learn something new, every day. Our preschool is supportive, understanding, and most importantly FUN! For this reason, I believe our preschool stands out from others in the most positive way. I am inspired by my young scholars to be the best version of myself and a role model as I am truly helping shape the lives of our future. I am honored and proud to say I love where I work, and I look forward to each and every day!
Thank you, Ms. Anna, I share a similar sentiment. My name is Ms. Mallory, and I am one of the Pre-K 2 teachers here at Academy of Excellence Preschool. I have 9 years of experience working in the preschool setting, and I can proudly say that I love teaching at AOE. We say Academy of Excellence is your child's home away from home and it feels just the same for the teachers and staff. The classroom and school community we have developed here is like no other I have experienced before. It is a place where differences are embraced and cherished. The school celebrates our unique perspectives and experiences as we work in unison to promote a love for learning in our young students.
Every day is an opportunity to learn and grow, and we do not take that lightly here at AOE. Our lessons are filled with opportunities to progress academically, socially, and emotionally. I am proud of the curriculum, learning opportunities, and activities presented to our students. I would highly recommend taking a tour and learning more about our beautiful school and what it has to offer. But let us not forget, that it all starts in our toddler classroom.Thank you, Ms. Mallory, I will take it from here. My name is Ms. Asher, and I am one of the Toddler teachers here at Academy of Excellence Preschool. I genuinely enjoy coming to our beautiful school each and every day. I wake up excited to see what my little students have in store for me, and let me tell you, each day is an adventure! No school that I have worked for has kept a smile on my face the way AOE does. I enjoy teaching in our state-of-the-art facility where the teachers, students and families are a team. Even on a rainy day, our school is filled with sunshine. Academy of Excellence Preschool found a way to create welcoming environment, while teaching and challenging their students academically from their first days. I am honored to be a part of the family as we continue to bring joy and wonder to the students who begin their education in my room. Lastly, let us not forget about the safety of our students. Our wonderful, full-time nurse, Nurse Denise, will be able to put your mind at ease.
Thank you, Ms. Asher, this is my job! As I am called the super nurse at AOE with over 11 years of nursing experience, working in a pediatric setting. I have worked at many schools before but non that compares to the Academy of Excellence. The school not only has an outstanding curriculum that helps each child to develop and grow at their own pace, but they also make sure our little learners are caring, nurturing, and responsible individuals, which in return foster our students' social and emotional wellbeing. Every child here has a voice and feels safe and loved. To this day, I am inspired, and wonder struck to see haw advanced our students are and enjoy seeing them grow and bloom into responsible and mature preschoolers. I appreciate our community of teachers and parents working together to create a platform for our curious learners to excel academically, cognitively, and emotionally, which makes my job a breeze. I am the one who puts spiderman bandages on our superheroes paper cuts. The best kind of job!
What can we say here at JCFamilies, it seems there is no other place like AOE. For more details, please visit their website at www.AcademyofExcellencePreschool.com