Academy Of Excellence Preschool in Jersey City
Academy of Excellence Preschool has been operating at 159 2nd street in Jersey City since 2010 under the World of ABC. To celebrate their 10th year anniversary they are evolving into Academy of Excellence Preschool. The school will be rebranding, improving, and expanding its already successful academic program.
At Academy of excellence Preschool, they believe in nourishing each child & curiosity, by opening their mind to the endless world of possibilities before them. They make sure that every single one of their students is encouraged and guided to achieve their greatest potential. The school is known for turning mirrors into windows so that each child will have a solid foundation to see their path to success.
About the Owner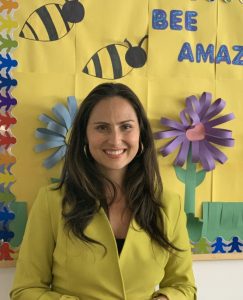 Dorota Mani has been serving the
Jersey City
Educational Community since 2011.
Academy of Excellence Preschool
is her third educational endeavor in Downtown Jersey City. She believes in nourishing each child's curiosity, by opening their mind to the endless world of possibilities before them. As an owner, she makes sure that every single one of Academy of Excellence Preschool students is encouraged and aided to achieve their greatest potential.  Dorota Mani graduated with a master's degree from Pratt Institute and currently seats on the board the University of Phoenix and Hudson County Work Force Development.
Dorota Mani started the Academy of Excellence Preschool in 201o as an educational platform for her own children. The school quickly grew from 50 students to currently 125 students at her 159-2nd street location. In 2020, she decided to celebrate the school's 10-year anniversary by rebranding, changing the name to Academy of Excellence Preschool, re-designing the state-of-the-art facilities, and expending her already successful academic program.
Curriculum at Academy of Excellence Preschool Jersey City
The teachers and administration at Academy of Excellence Preschool take much pride in the school's curriculum.  Their top priorities are student's happiness, safety, academic progress as well as social and emotional development. Early education is the most crucial time in a young child's life, therefor their intention as educators is to create an age-appropriate stimulating environment with a challenging academic atmosphere.  Within their home away from home setting, they provide students with encouragement, motivation, and support, throughout their learning and growth process.  It is their goal to inspire all the students to grasp a love for learning as they address the major subject areas such as mathematics, language arts, social studies, science, and arts.
Their curriculum is carefully planned out to provide the necessary steppingstones and goals for our students the be able to successfully move on to the next grade level. Their stimulating learning centers encourage academic advancement and social growth from the beginning to the end of the school year.  Academy of Excellence Preschool would love to welcome you to their extended family.
Safety Precautions during COVID-19
At Academy of Excellence Preschool, they aim for success in everything that they do. they are up for any challenge. At the Academy of Excellence Preschool, safety is their top priority, especially during the global pandemic. Opening during the global pandemic was not an obstacle but a way to look outside of the box and improve their operations. Not only they are following all the CDC guidelines and state requirements but are doing much more. The school completely re-branded their classrooms. All carpets and toys made of cloth were removed. Each child has their own personal desk and chair, set of supplies, books and manipulatives. At the door, students are welcomed by teachers and asked to change their outdoor shoes into indoor shoes. Academy of Excellence Preschool is lucky to have 6 separate entrances, allowing them not to mix students and parents during drop off and pick up. At the drop-off, everyone's temperature is measured, hands sanitized, and daily CV19 questionnaire conducted. The children are wearing masks throughout the day and if one of the little campers refuses to do so, they will be provided with fun protective shields. The physical space of each classroom is sterilized and steamed every single day.  To ensure social distancing, teachers are using hula-hoops to mark each student's personal space. Their challenging academic program is still implemented daily while the little explorers have a chance to socialize with their friends. The school has full time, on-site dedicated Nurse, who oversees each classroom's operation, making sure that students are happy and healthy every single day.
Academy of Excellence Preschool cares about the psychological well-being of its students. Ensuring that students feel comfortable and safe in their school environment helps them positively develop socially and emotionally. A child that feels safe will be more inclined to focus on learning, developing, exploring, experiencing the world around them, and having fun!
Location and Programs: Academy of Excellence Preschool Jersey City
Academy of Excellence Preschool is in the heart of
Downtown Jersey City
. Two blocks away from the light rail and 5 minutes away from the Grove Path Train station. Their address is 159 2nd Street, Jersey City, NJ 07302.
The school caters to preschool-age children and offers three academic programs to choose from:
Morning Program 8.30am-12.45pm
Full Day Program 8.30am-3.30pm
Extended Day Program 7.30am-6.00pm
At Academy of Excellence Preschool, they understand the difficult decision parents are faced when searching for the right school for their child. They understand that each child is unique and has their own talents, gifts, and interests. Their learning environment, program, and culture have been carefully designed to foster a lifelong love of learning through a hands-on curriculum facilitated by the best and brightest educators and housed in a State of Art Facility. Through a wide variety of curriculum enhancements, on and off-campus learning opportunities, 21st-century technology and dramatically reduced teacher/child ratios. Academy of Excellence Preschool sets the standard for high-quality childcare geared towards your child's developing needs.
Extra-Curricular Activities
Academy of Excellence Preschool promotes the use of ecofriendly and natural materials, recycled supplies, and green and sustainable cleaning products. Their Classroom Centers consist of Library, Listening Center, Writing Lab, Sensory Center, Art Studio, Mathematic Center, Geography & Multicultural Studies Center, Science Lab, Blocks & Architecture Center, Music Center, Gym, Public Speaking Center, and their outdoor urban gardens. The school provides a variety of Enrichment Programs on a daily basis, such as: Chess, Karate, Ballet, Soccer, Musical Theatre, Science, Spanish, Spanish, Swimming, Fitness, Cooking (Classes dependent upon the state, licensing, and CDC safety guidelines as per Global Pandemic).
Academy of Excellence Preschool is proud to have two outdoor urban playgrounds available for their students at the front of their facility and 3 organic gardens on their back balconies. Since the outdoor facilities are dedicated to our students only, they can ensure safety and cleanliness every single day.  The school provides a variety of organic and natural snacks for their students (dependent upon state, licensing, and CDC safety guidelines as per Global Pandemic).
Academy of Excellence Preschool would like to introduce their Progressive Virtual Classroom! 
Virtual Classroom is where personalized education meets individualized growth among a social community of learners. Academy of Excellence Preschool is proud to offer virtual preschool education for their students. Learning and development can take place in the safety of your own home! COVID-19 has interrupted learning for several months now; however, it has opened up endless possibilities for changing and enhancing our continued academic growth and development. It is true, education will never be the same. As their preschool has always been progressive and open to educational enhancements, they are ready to take on the new challenge of growing our already successful program and expanding it into state-of-the-art virtual classrooms.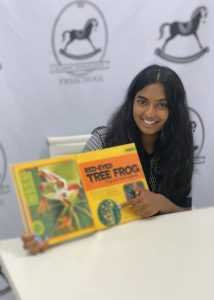 Their virtual classroom is designed to enhance student's academic success, there social and emotional development as well as keeping in mind parents' busy schedules. The program incorporates the following key features:
They will deliver a state of the art facility into your home. A box with supplies will be mailed monthly to your home to support their daily curriculum. Students will receive books, manipulatives (such as: linking cubes, counting bears, play dough, Legos, etc.), academic and supportive materials (instructional and art materials) as well as academic equipment such as a microscope with supporting specimens, magnifying glass, and tweezer.
Progressive Virtual Classroom will not exceed 12 students per teacher.
Monday through Thursday, students will participate in daily one-on-one personalized sessions with their teacher to ensure personal and academic progress. This will guarantee that students are reaching academic goals, grasping concepts, being challenged, and stimulated while supporting their social and emotional development and needs.
Friday will be dedicated to "social gatherings" made up of 4 students and their teacher. "Fun Friday ", as they call it at Academy of Excellence Preschool, will empower students socially and emotionally. Students will engage in group conversations where they can express their feelings and opinions through verbal presentations (theater and public speaking), fun games, discussions, and a variety of projects (art).
Daily pre-recorded lessons will be uploaded onto our secure portal for students to engage in at a convenient time for them and their family. Our daily schedule will include subjects such as mathematics, language arts, science, and social studies.
To promote concentration and prepare our little explorers for a productive school day, we will begin each day by practicing daily songs, movement, and mindfulness exercises as a group.
Every student will be required to wear a uniform, in the form of a white polo shirt. This will nourish a sense of equality and community.
Please call them for more information regarding September 2020 Enrollment at ‪201-656-4444‬ or email then at ‪[email protected]‬