Special Thanksgiving Menus In and Around Jersey City
Thanksgiving is near, and as great as the holidays are, sometimes we can run into a bit of a jam. Maybe you feel like taking a break from tradition and want to enjoy someone else making your holiday meal for a change, or perhaps you want to step out and enjoy a delicious meal with your family at a local restaurant. Plenty of restaurants open for Thanksgiving and offer delicious meals at home or the restaurant. Therefore, we've created a list of Special Thanksgiving Menus In and Around Jersey City!
Hamilton Pork
247 10th St, Jersey City, NJ 07302
Hamilton Pork offers a delicious thanksgiving meal with sides and a whole-smoked turkey. Sides include sweet potato mash, brussels sprouts, homemade mac & cheese, and more. To place your order visit their website here.
Salt + Seed Vegan Thanksgiving
210 Hudson St, Jersey City, NJ 07302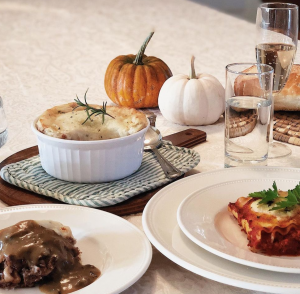 Salt + Seed is offering a delicious vegan thanksgiving menu. If anyone is looking for homemade local vegan options from their downtown Jersey City location, they are here to help!
PICKUP on 11/23 From 10 am-4 pm
210 Hudson St, Jersey City, NJ 07302
All Orders Are Subject To availability Until We are Sold Out, While Supplies Last.
ALL MUST BE SCHEDULED BETWEEN 10 am-4 pm for pickup on Wednesday, 11/23
Please honor your preferred pickup time, if you are running late, please call ahead to 2015546373, so they can space all pickups accordingly. For first-time shoppers, Just a quick note Salt + Seed is 100% VEGAN, Homemade from scratch, using hand-sourced ingredients. They are NOT a gluten-free, soy-free, or nut-free facility.
Hudson Hound
8 Erie St A, Jersey City, NJ 07302
Join Hudson Hound for Thanksgiving, or if you want to enjoy your meal at home, they are offering a menu for that as well. You can see the full menu here. 
THANKSGIVING AT THE HOUND
Thursday, November 24
Runs until Tuesday, November 22, 2022
3 Course Meal $85/pp + tax
Reservations recommended
03:00 PM – 08:00 PM
Jam Cakery Events
326 5th St, Jersey City, NJ 07302
Check out Jam Cakery's holiday menu if you want a delicious meal that purposefully accommodates different dietary restrictions. Diners can feel safe knowing that the food was prepared with care without sacrificing any of the tasty flavors or celebratory aspects of a holiday meal. Orders should be placed by email or by phone and can be picked up or delivered. Jam Cakery's holiday catering menu includes appetizers, entrees, and desserts. Raw, organic, vegan, soy-free… any guest's needs will be taken care of.
Satis Bistro
212 Washington St, Jersey City, NJ 07302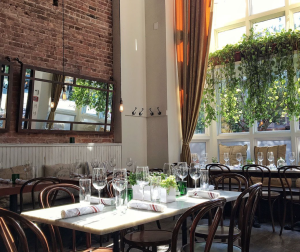 You can get ready to gobble gobble gobble a four-course meal. For $75 per person (plus tax + gratuities), you can dine in at Satis Bistro or enjoy your Thanksgiving meal at home for $68 per person.
Cangiano's
225 Pavonia Avenue, Jersey City 
Cangiano's is now accepting Thanksgiving catering orders. They will also be taking all-size Turkey orders! Cangiano's will also have a selection of Italian classics like cheese lasagna, eggplant parm, and more. They will also serve several traditional sides like mashed potatoes, stuffing, and more. All orders must be placed by November 18. They are also offering pies.
Fire & Oak
485 Washington Boulevard
Fire & Oak will be open on Thanksgiving Day if you dine in instead of hosting. They will serve a traditional turkey dinner and the regular menu from 11:30 am to 10 pm.
Antique Bar + Bakery
122 Willow Avenue, Hoboken
This year, Antique Bar and Bakery in Hoboken will offer everything from turkey to desserts. Their menu will feature a 15-20 lb turkey and delicious sides like rice balls, mashed potatoes, stuffing, mac and cheese, and more. But, of course, they can't forget their signature dessert- the Antique bread pudding, on their menu. All Thanksgiving Pre-Orders must be placed by Friday, November 18. Contact Antique Bar + Bakery by calling 201-683-7029 and find the full menu, where you can place an order online. Currently, pickup options are on Thanksgiving Day only, with a window between 11 am and 12:4pm.
The Hutton
225 Hutton St, Jersey City, NJ 07307
The Hutton offers a great carry-out meal for 4 for $165 this Thanksgiving! Enjoy The Hutton at home for your upcoming Thanksgiving Holiday with your chef-prepared Holiday Family Meal serving four people. Holiday Family Meals are available for pickup Wednesday, November 23, between 12:00 PM and 6:00 PM. PLACE ORDERS NO LATER THAN MONDAY, NOVEMBER 21, at 9:00 PM. Please note that if anyone is picking up wine, beer, or cocktails – you must be 21 or over, as we will be checking ID at pick up. All meals come with directions for re-heating! ALL HOLIDAY Family Meals serve four people!
Pasta Dal Cuore
527 Jersey Ave, Jersey City, NJ 07302
Spend less time cooking and more time with family and friends this Thanksgiving. Enjoy Pasta Dal Cuore's catering menu, which includes:
(Available in half trays)
◦Insalata Rucola
◦Insalata di Verdure
◦Involtini di Melanzane
◦Roasted Brussels Sprouts
◦Polpettine alla Marinara
(Available in half/full trays)
◦Lasagna Bolognese
◦Vegetarian Lasagna
◦Spaghetti Alla Vodka
◦Butternut Squash Ravioli
◦Pumpkin Ricotta Cheesecake
◦Tiramisù
Visit our website or call in to place your order!
Hudson Greene Market
77 Hudson St, Jersey City, NJ 07302
Let Hudson Greene Market your thanksgiving meal so you can sit back and enjoy the holiday!
Orders by email only
First come, first serve
Limited Quantity
The deadline is November 18, 2022
Busy Bee Organics
451 Palisade Ave, Jersey City, NJ 07307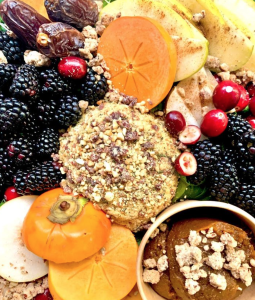 Busy Bee Organics' catering menu for Thanksgiving is now live. Orders are open now through Sunday, November 20. In addition, orders will be available for pickup Wednesday, November 23, from 2-4 pm. They offer side dishes, entrees, appetizer platters, desserts, and more! Check out their menu if you're looking for delicious gluten-free and vegan options this year.
We have recipes and food suggestions to satisfy even the pickiest eater if you are hosting Thanksgiving. In addition, there are plenty of vegan and vegetarian options to make your dinner a success!
The Cottage
136 Monticello Avenue, Jersey City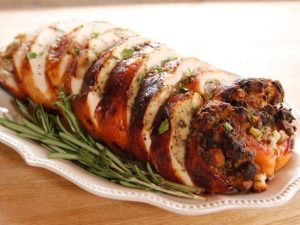 The Cottage is offering a traditional menu and a vegan menu this year. They will provide everything from Turkey to delicious sides like mashed potatoes, roasted brussels sprouts with bacon + onion, baby carrots, pumpkin bisque soup, and more. They are also offering fresh pies. Thanksgiving pre-order by 11/16 – pick up 11/23. Order here. 
Lokal JC
Two 2nd St, Jersey City, NJ 07302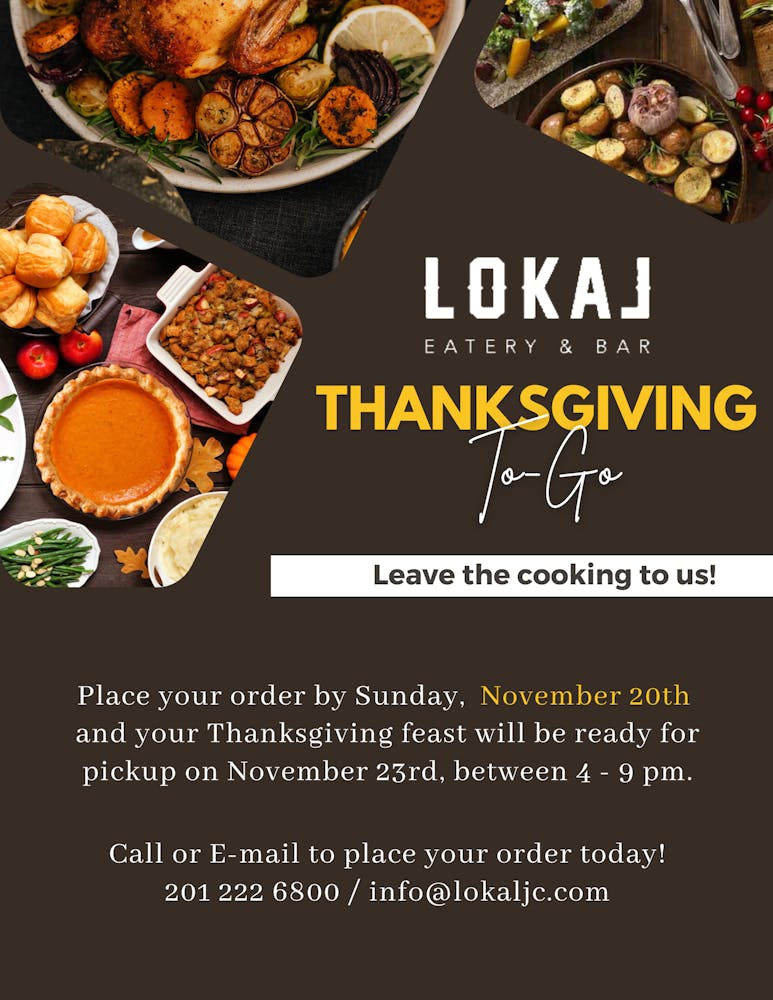 Leave the cooking to Lokal! Place your Thanksgiving to-go orders today. Call or email them today! They will be offering a complete Thanksgiving feast. Orders must be placed no later than Sunday, November 20 + pickup is on Wednesday, November 23, between 4 pm – 9 pm.
Franklin Social
292 Barrow St, Jersey City, NJ 07302
Franklin Social offers special Thanksgiving Day Meal Packages with a la carte orders. All orders will be delivered on Wednesday, November 23rd. Each order will come with reheating instructions. They will arrive within 2 hours of your preferred delivery time. Someone must be home to receive your order. The deadline for orders is November 16th.
South House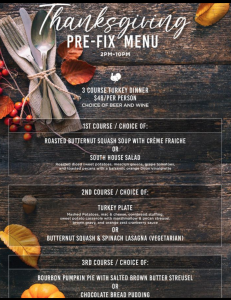 Celebrate Thanksgiving with South House and let them handle the cooking! Seating will be first come, first serve. Parties of 6 or more – please email [email protected] or give them a call at (201) 209-1316!
Updated November 14th, 2022