Special Thanksgiving Menus In and Around Jersey City
As great as the holidays are, sometimes we can run into a bit of a jam. Maybe you feel like taking a break from tradition, and you want to enjoy someone else making your holiday meal for a change, or perhaps money is a bit tight, and you need other options fast. However, plenty of restaurants are open for Thanksgiving and offer delicious meals to eat at home or the restaurant. Therefore, we've created a list of Special Thanksgiving Menus In and Around Jersey City!
Their Savory Catering Menu is now available for pre-order. They will be accepting orders from now until Monday, November 22nd end of the day.
Email [email protected] to place an order or ask questions. All items can be done if and are nut-free. Most items will be packed with organic ingredients and, as always, locally sourced goodness. Pickups will be from our downtown Jersey City bakery. Delivery available for NY and NJ.
You can get ready to gobble gobble gobble a three-course meal. For $45 per person (plus tax + gratuities), you can dine in at Satis Bistro or enjoy your Thanksgiving meal at home. Make sure to pre-order by November 23rd.
Thanksgiving Day feast for The Cottage JC is not one to miss this year. The dinner serves up to 6-8 people. They also have a vegetarian option available. The menu includes Brined & Roast Turkey Breast Herbed Turkey Gravy Truffle Pommes Purée Harvest Sage Stuffing Cranberry Sauce Roasted Brussels Sprouts w/ Bacon Tarragon Creamed Corn.
Thanksgiving at its finest: easy and delicious catering options that will make your holiday season a piece of cake! Just place an order with Ghost Truck Kitchen by Sunday 11/21 and pick up your food on Wednesday 11/24. It's that simple!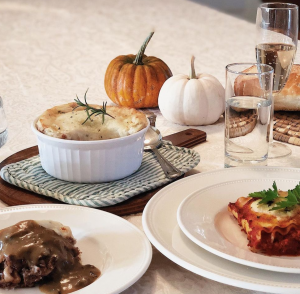 Salt + Seed is offering a yummy vegan thanksgiving menu. If anyone is looking for homemade local vegan options from their downtown jersey city location, they are here to help! All Orders Must Be Placed By Saturday 11/19, no later than 8 pm. For scheduled pickup on 11/24 between 1 pm – 5 pm from 210 Hudson St Jersey City, NJ 07302. All Orders Are Subject To availability until they are sold out.
Thanksgiving Family Meal's for 4
Features Boneless Turkey Breast served with Mashed Potatoes, Roasted Carrots, Stuffing, and Cranberry Sauce. Add-on item options are available for each meal at an additional cost: salads, wines, and sides.
ALL ORDER MUST BE PLACE BY Monday, 11/22, for pickup on Wednesday, 11/24, between 12:00 pm and 6:00 pm!
Thanksgiving cooking makes you anxious, and The Franklin has got you covered. They are now taking your catering orders for Thanksgiving. Deadline to place your orders is 11/24.
Put on your Thanksgiving best and head over to The Liberty House for your Turkey Day meal! The restaurant is offering a 3-course prix fixe menu for customers who want to dine in. (An a la carte menu is also available). Dinner options include a traditional roasted herb turkey with various side dishes and appetizers.
Are you looking for a vegetarian option to celebrate your Thanksgiving this year?
Cafe Dream Vista is delighted to help you with your holiday meal preparations, offering a Vegetarian Thanksgiving Catering Menu. And it gets better! They deliver for free to Hoboken, Jersey City, Union City, Weehawken, Edgewater, and West New York.
You may place your order by email or call.
[email protected]
201- 272-6847
Orders must be placed by November 23rd, 3 pm.
Looking for some delicious treats for Thanksgiving? Check out Strawberry & Me's Thanksgiving boxes filled with pretzel rods, chocolate-covered strawberries, and more! Pre-order today.
Don't cook this Thanksgiving! Order in from Villa Borghese III. All pickup or delivery orders must be made by November 22nd. If you would rather dine out you can also check out their three-course menu for just $39.99. Call 201.420.4823 to place an order.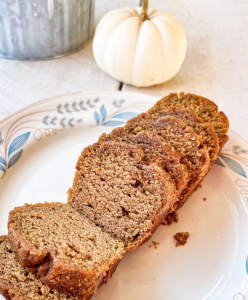 If you are looking for a stressless Thanksgiving, check out Hudson Hound's menu. The full menu includes appetizers, turkey, sides, and dessert. Call them directly to arrange it at 201.630.8559.

Antique Bar & Bakery is ready to serve you and your family some delicious turkey. This Thanksgiving, both turkey and ham will be available. Both the turkey and the ham are coal-fired and come with some of Antique's favorite traditional sides like cranberry sauce and gravy. Thanksgiving orders must be in by November 19th to be ready for Thanksgiving pick-up.
If you are hosting Thanksgiving, we have recipes and food suggestions for you to try to satisfy even the pickiest eater. There are plenty of vegan and vegetarian options to make your dinner a success!