Special Thanksgiving Menus In and Around Jersey City
As great as the holidays are, sometimes we can run into a bit of a jam especially this year when the holiday season will be a little different. Maybe you feel like taking a break from tradition and you want to enjoy someone else making your holiday meal for a change or maybe money is a bit tight and you need other options fast. There are plenty of restaurants open for Thanksgiving and are offering delicious meals to eat at home or at the restaurant. Therefore, we've created a list of Special Thanksgiving Menus In and Around Jersey City!

When it comes to Thanksgiving dinner, most would agree the roast turkey is the star of the table…but what about the sides? If you believe the magic lies with the accouterments…you know, the potatoes, the gravy, the stuffing, and the cranberry sauce. Whether you're the host or going to visit friends and family this Thanksgiving, save yourself from dealing with pots & pans and impress your guests with sides that will have everyone asking for seconds.
For order, info visit kitchenstepjc.com.
Their Savory Catering Menu is now available for pre-order. They will be accepting orders from now until Monday, November 23rd end of the day. Email to [email protected] to place an order or ask questions. You can also private message them.
The Rockin' Raw menu is a fully organic, raw, gf menu and this is their 10th year offering this menu. All items can be done gf and nut-free. Most items will be packed with organic and as always locally sourced goodness. Pickups will be from our downtown bakery. Delivery available for NY and NJ.
You can get ready to gobble gobble gobble a three-course meal. For $45 per person (plus tax + gratuities) you can dine in at Satis Bistro or enjoy your Thanksgiving meal at home.
A luxurious atmosphere tops off the great food offered at Halifax! Enjoy a three-course meal along with amazing side dishes for Thanksgiving Day for $58 per person.
Thanksgiving cooking makes you anxious, The Franklin has got you covered. They are now taking your catering orders for Thanksgiving. Deadline to place your orders is 11/24.
Join Liberty Prime Steakhouse for their Thanksgiving Feast! Choose from a full á la carte dinner menu or a delicious prix fixe menu. Reservations are required, so call now to book your seat. Call today: 201-333-3633 📞
La Concha's catering menu is here for the holidays. Get your pernil (pork shoulder) orders in at La Concha for thanksgiving! The restaurant is also offering chicken, empanadas, pasteles, and more.
Put on your Thanksgiving best and head over to The Liberty House for your Turkey Day meal! The restaurant is offering a 3-course prix fixe menu for customers who want to dine in. (An a la carte menu is also available). Dinner options include a traditional roasted herb turkey with various side dishes and appetizers.
Resident chef Anastacia Song is cooking up an epic Thanksgiving Day feast for The Cottage JC. The dinner serves up to 6 people and for every family meal purchased, another is donated to a family in need. It serves upto 4-6 people and is $249.

This year Maritime Parc is doing a takeout menu for Thanksgiving. Take-out Thanksgiving Day dinners at Maritime Parc include everything from brined turkey to floral arrangements for your dinner table. Wine pairings and batch cocktails are also available. Orders must be placed by 6pm on Sunday, November 22.

This Thanksgiving, Antique Bar & Bakery will do all the meal prep for you! They slow roasting organic turkeys for Thanksgiving Day pick up. All turkeys are accompanied by homemade herb gravy, traditional stuffing, and fresh cranberry sauce. A la cart appetizers, sides, and dessert are also available. Call ahead to place your order.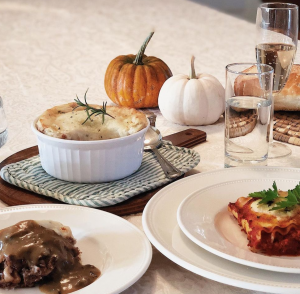 Salt + Seed is offering a yummy vegan thanksgiving menu. If anyone is looking for all homemade local vegan options from their downtown jersey city location, they are here to help! All Orders Must Be Placed By Saturday 11/21, no later then 5pm. ALL orders are for PICKUP ONLY on Wednesday 11/25.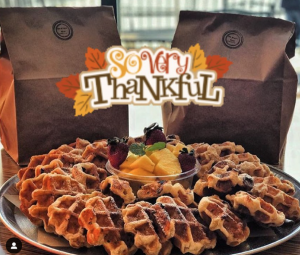 THANKSGIVING SPECIAL! Get a platter of a dozen mini-liege waffles with raspberries and Nutella for your #thanksgiving #friendsgiving brunch, lunch or dinner event for $30!!! They will be OPEN the day before Thanksgiving for pick ups. DM them, call/text at 201 788 7613 or email at [email protected]
Celebrate your Thanksgiving a day before or enjoy a meal a day before Turkey Day at Frankie. Join them Wednesday night, reserve a table in their new closure, warm with plenty of fresh air! The menu is $45 a person.
If you are hosting Thanksgiving we have recipes and food suggestions for you to try to satisfy even the pickiest eater. There are plenty of vegan and vegetarian options to make your dinner a success!