10 Spots To Get Bubble Tea In Jersey City
Bubble tea is a tea-based drink that originated in Taiwan in the early 1980s. It is traditionally made with tea, powdered milk, and tapioca balls, or boba. Additionally, other toppings can be added. If you are craving this delicious drink, you are in luck because Jersey City has some great spots that offer it! Therefore, we created this guide of the best spots to get Bubble Tea in Jersey City. In addition, we also have guides on cafes, restaurants, ice cream, and more.
420 Grand Street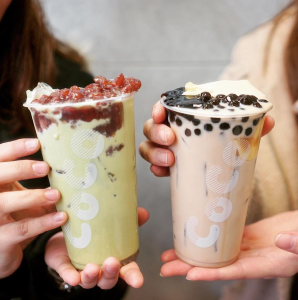 CoCo Fresh is a franchise that has been popular for a while. They offer some of the most traditional milk tea and fruit tea options. They have 16 locations in New York and New Jersey and 4500 stores around the world. Also, they have a ton of options to try whether you want something classic, fruit, or unique.
654 Newark Ave, Jersey City
Located on Newark Ave, Sagoto BubbleTea is the perfect spot for bubble tea but also other desserts. Gladys Arnejo and Joy Mendoza, the owners of Sagoto, expand on the traditional bubble tea menu and offers Filipino-inspired flavors in drinks like the Ube Mac, Gen San Pandan, Sago't Gulaman, and their best-seller, the Manila Mango Graham Shake.
10 River Dr. S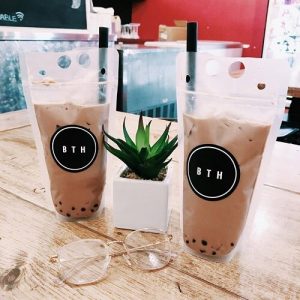 Babo Teahouse mixes a sit-down Asian café and a casual hang-out place for people of all ages in Newport. Established in 2003, this Jersey City staple features something for everyone. They offer unique homemade gelato flavors and a wide array of deliciously rich made-in-house teas with classic tapioca pearls. Choose between fruit or milk options (vegan and dairy-free options are available) customize your drink with fun popping bubbles or shaped sinkers. Additionally, they also have food like dumplings, ramen, and rice dishes.
183 Montgomery St
Short Grain is a neighborhood café and eatery located in the historic Van Vorst Park district of Downtown Jersey City. They serve specialty coffee, sandwiches, brunch, and small plates. In addition, they have a variety of bubble tea flavors like Taro, Black Seasme, Thai tea, and more.
525 Washington Blvd Space E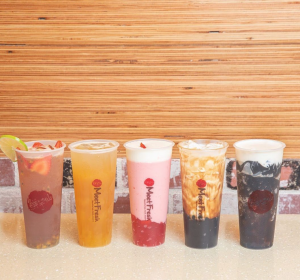 Sister and Brother Fu grew up in a family that began farming for generations in the Feng Yuan District of Taichung, Taiwan. They crafted soft taro balls and delicate herbal jelly desserts using selected ingredients while following traditional processes. They adhere strongly to serving customers the best-tasting desserts and believe sincerity to be the key to customer satisfaction. Meet Fresh is new to Jersey City and located in Newport. They have an abundance of bubble tea options but also other delicious desserts.
262 Newark Ave
Tea NJ is a vegan paradise! It boasts that 90% of their menu is vegan-friendly while the other 10% mix vegetarian and meat-eater options. They also have bubble tea options. From strawberry, matcha, chai, jasmine, and more!
564 Washington Blvd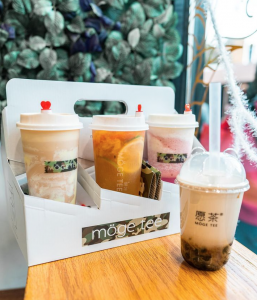 Moge TEE is dedicated to creating a unique and innovative beverage with a well-balanced and rich flavor to present customers with the most natural and fresh taste. They have locations all over NY and NJ. Their Newport location has abundant Bubble Tea flavors and types like fruit, classic tea flavors, and more!
30 Mall Dr. W, Jersey City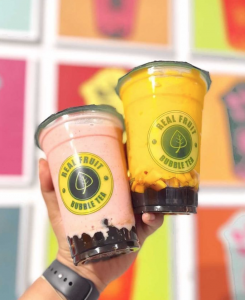 Real Fruit Bubble Tea originated in Toronto and is growing rapidly all over. They specialize in handcrafted drinks and fresh teas that are brewed from loose leaf and espresso tea machines. Our fruit drinks are strictly made with real fruits processed on-site. No premade or prepackaged juices are available in store, which is why their bubble tea is so fresh! Additionally, you can pick out so many flavors and toppings.
312 Central Ave
Angels Recipe is located in the heights of Jersey City. Providing the freshest and premium quality ingredients is their goal. Their ice cream is made of all the best ingredients, carefully chosen from the local market, containing anything they wouldn't want to use at home, such as GMO products, chemical stabilizers, and preservatives. With that, they also have bubble tea flavors like mango, taro, honeydew, and more.
454 Central Ave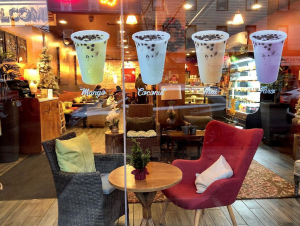 A family-owned, cozy, and elegantly decorated cafe with comfortable and modern sitting areas and WIFI, serving breakfast, lunch, coffee, fresh juice, tea, bubble tea, and many more in the Jersey City Heights neighborhood. Additionally, they have bubble tea for all the bubble tea lovers! They have flavors like honeydew, taro, coconut bubble tea, mango, and more!