Fun Halloween Activities For Families Near Jersey City
The weather has started changing now and with autumn comes Halloween! This year things have been very different, even though a lot of events have been canceled, in New Jersey there are still a ton of spooky and scary activities happening. You can add these funky and fun Halloween activities to your must-do list, so get ready for some haunted fun. From ghostly haunted houses to  Jack O'Lantern's experience, we have everything for you in this list. So let's get spooky…
Mack-Cali and JCFamilies are happy to present the annual family Halloween event! We are excited to invite you on Halloween to enjoy a day filled with fun activities for the whole family! We will be taking all the safety precautions provided by the CDC and the state of New Jersey. The event will be outdoors and there will be a ton of family-friendly activities!
Date: October 31st
Time: 1pm-3:30pm
Location: Parking Lot at 107 Morgan Street, Jersey City
Entry fee: $7 + PayPal fees (Per person)
Buy tickets here: https://jcfamilies.com/event/jc-halloween-spooktacular-an-outdoor-family-event/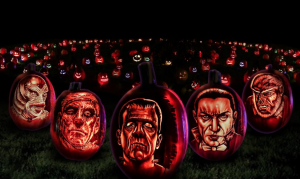 With over 5,000+ Jack-O-Lanterns throughout the stadium, property and surrounding cornfields, get ready for some spooky fun at Skylands Stadium! Sussex County's Family Entertainment Destination will be set ablaze with some of the most spectacular visuals you'll ever see. Perfect for families of all ages, date nights, and all lovers of Halloween Spirit. Their drive-thru event is safe and spacious, with distancing in mind. From September 25th to November 1st and $24-$39 per car.
The town-wide celebration of Westfield's own Charles Addams returns this October! Westfield will be transformed to all things Charles Addams with family-themed events, movie screenings, exhibits and much more — all reimagined for a pandemic-friendly approach that allows for distancing. With something for everyone, AddamsFest promises to be a whimsy-filled festival honoring the man, his legacy and the town where it all started. Movie tickets: early bird $25 per car, regular $30 per car and haunted trail: early bird $20 per ticket, regular $25 per ticket.
​
Join Six Flags for their Hallowfest this year. Their haunted experiences are happening September 18 through November 1, plus October 12. This is definitely a family favorite event! From 2 to 6 p.m, families and young thrill-seekers will experience HALLOWFEST Thrills by Day such as Scarecrow Street, Pumpkin Patch Lane, Hay Blaze, and much more. Chills by Night begins at 6 p.m. and will feature four scare zones, three shows, and three haunted mazes available outdoors in the wide-open midways, plus one indoor haunted maze so this is perfect for all ages!
Bronx Zoo annual Halloween tradition is back! They have family-friendly activities and have taken all the safety precautions for you to have a great experience. Come dressed in your Halloween best and enjoy it! Delight in amazing costumed entertainment by their stilt walkers and Halloween-themed puppets. Also, join in the fun and make sure you're showing off your Halloween best! Stop by the eerie graveyard of animal species that are no longer with them and learn how to prevent it from happening in the future.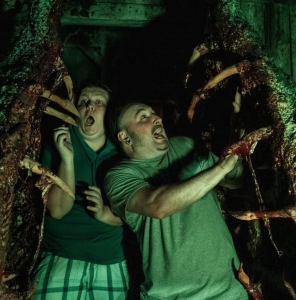 This one is definitely for the adults. This legendary haunted asylum complex featured on The Today Show, Cake Boss, Buzzfeed, ABC, NBC, FOX, and media outlets all over the country, shut down in 1952 due to staff and patient disappearances, as well as intolerable living conditions. Now, the asylum has re-opened and is accepting new patients so get ready to get horrified! Brighton Asylum is a massive walk-through dark attraction filled with terrifying live actors, horror movie style scares, and Hollywood quality special effects. Events begin Friday, October 2, and end on November 1, 2020.
The 13th Hour Haunted House is generally on the weekends. The weekend events begin Friday, October 2, and end on Saturday, October 31, 2020. 13th Hour hosts the most entertaining and original events in the country. They feature 3 Haunted House attractions complete with special effects and movie quality sets. Try their 6 award-winning 60-minute Escape Rooms and all-new 60-minute Virtual Reality Escape Rooms.
Weekends, beginning Friday, September 25 and ending Sunday, November 1, 2020. This year they will limit the events to 3 Terrifying Attractions: The Haunted Hayride of Terror, 3d Haunted Barn, and the Marlboro Zombie Breakout. This year, they are taking precautions because of COVID-19.

Meander through an 18th-century landscape and discover a breathtaking display of more than 7,000 illuminated jack o' lanterns—all designed and hand-carved on site by our team of artisans. New for 2020, a fire truck—making a special rescue—and witches stirring up a spell. Tour the Museum of Pumpkin Art, where classic paintings get the gourd treatment, see who let the (pumpkin) dogs out, listen for the Headless Horseman—and watch out for swooping jack o'lantern bats. See the Pumpkin Carousel twirl and the Pumpkin Windmill whirl and step inside the Pumpkin Planetarium for a star show like you've never seen. You'll certainly hold a torch for the 25-foot-tall jack o'lantern Statue of Liberty and get personal with Instagrammable signs of the zodiac.
Complete with synchronized lighting and an original soundtrack, this one-of-a-kind event is not to be missed!
To ensure the safety and enjoyment of our visitors, capacity is extremely limited. By purchasing a ticket, visitors agree to follow our COVID Courtesy Code, which includes wearing a mask at all times—even while taking pictures—and maintaining at least six feet of social distance.
Join Manhattan Community Board 2 and NYU for our 30th year of free, family-friendly Halloween fun! They are hosting a festive virtual Children's Halloween Parade with musical performances, a costume contest, a downloadable activity book and more. The video will premiere on this page at 1:00 pm on Saturday, October 31!
My Gym is excited to partner with @NetflixFamily to bring their preschool series, Go! Go! Cory Carson, to life at My Gym locations across the U.S. Throughout October, kids will have a blast staying active as they play and dance to Go! Go! Cory Carson-themed music and activities. Cory and his family and friends are just like us, and the feel-good series is anchored in core play patterns to which kids will immediately connect.
Halloween Mask-A-Rade Costume Contest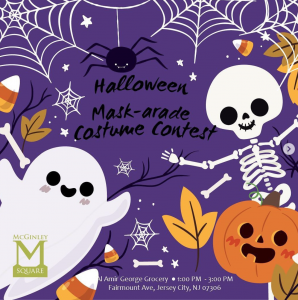 This is a very spooky season, but let's keep our kids safe and happy.
Participate in the Halloween Mask-arade Costume Contest and the best costume will win gift certificate to use in McGinley Square. Bring them to pick a pumpkin and tools for them to draw at home.
1:00 PM * Saturday, October 31st.
Costume contest schedule:
1:15 *0-2 yrs old
1:25 *3-5 yrs old
1:35 *6-10yrs old
1:45 *11-15 yrs old
1:55 *pets
There will also be treats-to-go!!!
Join Girl Scout Troop 12026 Trunk or Treat Oct 30 4-6 Lincoln Park Duncan Avenue lot (near track) masks required for entry.
#SaveHalloween @zeppelinhall annual Halloween Party. Outdoors in our garden. No reservations, plenty of tables on a first-come basis. There will be a fire pit, DJ, scary ghouls and much more.
Two weekends of Halloween fun! Dancing Tony presents The Ghost of Uncle Joe's: A Halloween MASK-uerade Fundraising Ball. Benefiting the Historic Jersey City and Harsimus Cemetery. A music series of six separate socially distanced shows.
The Jersey City Reservoir Preservation Alliance & Pershing Field Garden Friends are pleased to present a safe, socially distanced outdoor Halloween event for the whole family!
Worried about Trick or Treating but still want to show off those fantastic costumes to the neighborhood? Join them on Saturday, October 31 for the first-ever Maskerade Costume Parade! This event is free.
Trick Or Treat Drive
Save the Date
Saturday, October 31, 2020
From 12pm-2pm
Where: 205 Brunswick St.
Jersey City, NJ 07303
They will be hosting our first walk/drive-thru trick or treat event! They will have Goodie bags for Children and Adults! 🍭 🍬
Please make sure to wear your mask and Practice Social Distance.