JCFamilies' Spring and Summer Events in Jersey City:
The weather is finally getting warmer and more events are on the horizon. Are you on the lookout for fun events to enjoy with the whole family this spring and summer season? Luckily, we have some exciting events that you can look forward to. Please take a look at this list of events in Jersey City and add them to your calendar!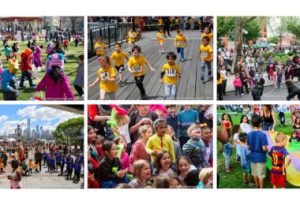 New Moms Outdoor Meet-up at Cafe Esme
Hi Mommies,
JCFamilies and Jersey City Moms are organizing weekly New Moms Outdoor Meet-up At Cafe Esme.
Come out to have coffee and meet with other moms at Cafe Esme's outdoor patio. They have a beautiful patio in the back to enjoy the weather and connect with others moms. The meetup will be every Wednesday from 10:30 am-11:30 am. Babies and kids are welcome to join too!
Date and time: Every Wednesday starting at 10:30-11:30 am
Location: Cafe Esme, 485 Marin Blvd
City/Town: Jersey City, NJ
Story Time with The Brunswick School
Join The Brunswick School, for a storytime and arts & crafts session for kids at their Brunswick Street location in the parking lot.
Address: 189 Brunswick St #7th, Jersey City, NJ 07302
Date: June 2nd, 2022
Time: 10:30am-11:30am
Registration is required. Register here. 
Single Moms Meetup In Jersey City
Hey Single Moms!
JCFamilies and Jersey City Moms present Single Moms Meet-up in Jersey City.
Are you a single mom juggling work, kids, and caring for yourself while wishing for a more extensive support network? Then, join us in helping Jersey City single moms achieve family/work balance. Developing multiple support networks and friends is crucial to living a happy life.
JCFamilies is excited to announce that our single moms' meet-up in Jersey city is back! Join us at 7 PM at Zepplin Hall. 
The meet-up is free to attend (drinks/food not included). You are welcome to bring your friends and share stories/tips on parenting and living in Jersey City. Our meet-ups occur every two weeks as we seek to support single moms in joining our community and developing friendships/support networks.
Date and time: June 24th, 7-9 pm
Location: Zepplin Hall
City/Town: Jersey City, NJ
Bubble Fest at Grove Street Farmer's Market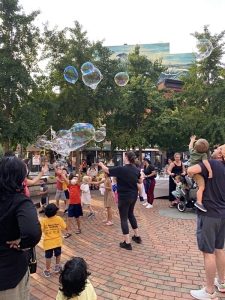 We partner with HDSID Farmer's Market for a fun-filled time of bubbles and arts & crafts.  Come stop by the farmer's market for some exciting activities and pick up your fresh produce. There will also be local businesses selling their products. It will be the perfect time to spend quality time with your kids and get your shopping done! More information here. 
Date and Time:
May 26th- 5-6 pm
July 7th- 5-6 pm
August 4th-5-6 pm
September 8th- 5-6 pm
October 6th- 5-6 pm
Location: Grove Street Farmer's Market in front of Grove Street PATH Plaza
City: Jersey City
Feministival Series- FUNtastic Summer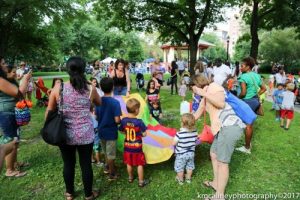 Summer is finally here! Please make your way to Hamilton Park for our fun end-of-school-year event! This FUNtastic Summer event will have many fun activities for families and is free to attend. So bring the whole family to enjoy a warm summer evening, grab dinner from a food vendor, enjoy all the entertainment we have planned for you and support local women-owned businesses. More information here. 
Date and time: Friday, June 17th, 4-7 pm
Location: Hamilton Park
City/Town: Jersey City, NJ
Updated May 24th, 2022