World of ABC
The WALDO School
An International Baccalaureate Accredited World School
Located in the heart of the Waldo section of the Jersey City Waterfront, at 110 1st Street and 125 1st Street, World of ABC, The Waldo School an IB accredited and certified World School, sets the standard for leading private education for over 11 years now for students Prek-2 to 8th Grade. The International Baccalaureate is a prestigious academic organization based out of Geneva, Switzerland, that offers programs for elementary, middle, and high school students. Mrs. Daniela Sarbu, the founder and owner of the school started the rigorous 3-year accreditation process back in 2013 and received the full accreditation in 2016.
By adopting and developing a highly innovative curriculum, our students are encouraged to explore and flourish while discovering and developing new talents. Our students are inspired to grow as individuals, with no child forced to ascribe to one specific mold, through equal emphasis on all disciplines and opportunities to explore concepts at their own pace.
Every little step your child takes around the classroom will lead them to take bigger steps throughout their life. Here at World of ABC, The Waldo School we plant the seed of knowledge and allow your child to flourish in their own unique way, giving them the ability to reach for the stars. The School is committed to creativity and innovation, individualized learning, and international awareness to create a well-rounded individual who is successful and confident in any future endeavor!
Our Facilities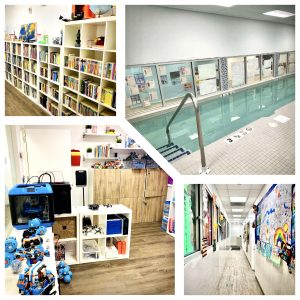 Our facilities are home to 21st-century technology, complete with laptops, chrome books enriched computer lab as well as iPads, 3D printers, and interactive whiteboard technology. Our airy classrooms, infused with natural sunlight and an eco-friendly interior containing sustainable manipulatives and equipment with multiple green elements are home to a student body that keeps environmental impact at the forefront of the decisions they make both at school and at home.
Our 110 1st Street campus houses all our Preschool classes as well as early Elementary classes and is located right next to a beautiful park with hopscotch, and chess tables, and there is a large private terrace right in front of the school for children to safely spend time outside in fresh air and working on some of their projects or enjoying organized games, chalk, bubbles and so on in their recess time. In addition to the beautiful outdoor spaces, the school features an indoor saltwater heated pool for year-round use, a STEAM lab with science kids, 3D printers, and other robotics materials, a comprehensive Library, a Music Room, large Gym.
Our 125 1st Street campus houses Upper Elementary and Middle School and is only one block away from our main campus on the same First Street and has a beautiful and chic outdoor urban garden.
Our classrooms boost natural light with windows from floor to ceiling!
Founder and Owner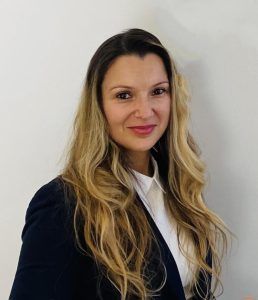 With a spark in her eye and a vision to bring a change in young lives, Daniela Sarbu, a mother of three beautiful children (Eric, Ethan, and Esme), has been successfully running the prestigious World of ABC, The Waldo School for over 11 years now. 
Starting in the summer of 2020, Mrs. Sarbu secured a 3rd location at 125 1st Street and moved the initial preschool to the new, updated location with more natural light which she believes is the most important for "developing little eyes". At the same time, she introduced the concept of World of ABC, The Waldo Preschool social emotional emphasys, an exclusive program prepared by an Ivy League school that focuses on the social-emotional development, and well-being of students and staff, in addition to the World of ABC's historic academics and milestone development. 
World of ABC, The WALDO School is an International Baccalaureate accredited and certified school and is located in Downtown Jersey City, NJ. As per Mrs. Sarbu: "My kids are my biggest inspiration behind the foundation of this school! I'm excited about creating well-rounded students who become successful adults".  Mrs. Sarbu believes every single child deserves to receive a world-class education to open up opportunities throughout their lives. This is why she gives back to the community and offers scholarships to her school for Jersey City children less fortunate.
Mrs. Sarbu was born and raised in Romania. She graduated from high school with a degree in Informatics and Technology and was accepted into New York University, however, decided to stay in Bucharest to continue her education. She completed her bachelor's degree with a major in International Economy and Marketing at the International Economic Relations School within the Academy of Economic Studies in Bucharest, Romania, graduating with honors. In 2004, she decided to move to the United States and enrolled at the Baruch College – Zicklin School of Business. Also, since then she has completed several business certifications at eCornell University and Harvard Online School of Business. Mrs. Sarbu has been holding the position of Member of the Board of Trustees of the University of Phoenix, Jersey City campus since 2015. 
Our team
In addition to our school philosophy and contemporary facilities, we also believe in the necessity of having an experienced and dedicated staff of educators who can take our vision and turn it into tangible outcomes for each student. World of ABC, The Waldo School employs an eclectic blend of educators who are leaders in our field. Our faculty comes to us from varying degrees of background. While many of our faculty are NJ state-certified teachers, others possess specialized degrees in specific fields of study. Our faculty not only possess strong academic backgrounds but extensive hands-on national or international teaching experience as well. Alongside Mrs. Sarbu, Mrs. Courtney Bode Vitale is fulfilling the Director and the Curriculum Director as well as the IB Coordinator of the Schools since 2016. Mrs. Cathy Melando – our school's wonderful nurse is ensuring that all the children are healthy and safe. 
You can find complete biographies for all our team members on our website at www.WorldofABC.com.
Our curriculum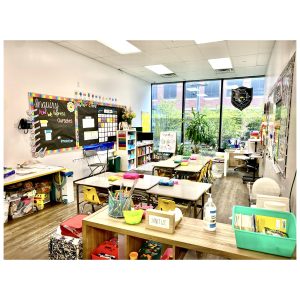 We are an International Baccalaureate Accredited World School. Our programs aim to develop successful students who respect and care for others, who understand both the differences and the commonalities among people all around the world, and are committed to creating a better and more peaceful world.
In order to develop these internationally-minded students, we ascribe to a specific teaching model and philosophy. We believe that students must take an active role in the learning process. Students ask questions about topics that are relevant to them and others around the world, engage in authentic research, think critically, collaborate with their peers to gain new perspectives, and learn to present their findings in effective ways. Our experienced and qualified teachers guide students toward the resources needed (including planning field trips or inviting guest speakers) and design differentiated learning engagements to answer students' driving questions. Teachers play a fundamental role in not only helping students to learn new concepts and ideas, but also to develop important communication, thinking, research, problem solving, self-management, and social skills.
Within each IB world school, high importance is placed upon the core subject areas, which include language arts (reading and writing); mathematics; science, and social studies. Each subject is taught with a high level of rigor and combined with our small class sizes and individualized learning approach, students are challenged and supported appropriately. 
Integral to our school is also our commitment to encouraging our students to take action and make a difference in the world around them. Embedded into our lessons and unit themes are real-world connections to help inspire students to reflect on their actions and make the best choices, identify problems and collaborate together to design solutions. Example projects that students have engaged in include learning why water conservation is important to the health of our planet and then creating posters to communicate this to the rest of the school community, engaging in local food, clothing, and toy drives after learning about the different experiences and needs of other people, or simply learning about social justice and equality issues and making a commitment to change their mindsets.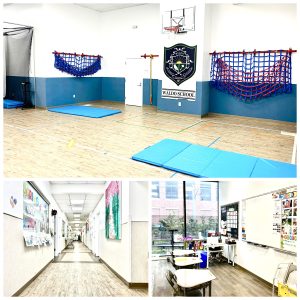 Throughout the week, you will find our students engaged in a range of inquiry-based and exciting learning experiences, which might include:
Using classroom iPads to control our Dash and Dot robotics system to learn the basics of computer science and coding (starting as early as preschool)

Researching homes around the world and conducting experiments to learn about the materials they are made of as part of a kindergarten unit of inquiry

Developing inventions to solve everyday problems at the first grade Invention Convention

Experimenting with splatter painting as they explore the techniques of Jackson Pollock in art class

Tracking the weather in our own community and comparing it with countries around the world

Interviewing family members to learn about their ancestry and family heritage as part of a second grade unit of inquiry

Working collaboratively to construct and engineer towering skyscrapers made from Lego bricks

Reading nonfiction and fiction books and articles independently to learn about influential people in history
We place a high value on exposing our students to external resources. Throughout the academic year, students enjoy a variety of fun and interactive assemblies utilized as a springboard for learning. Students enjoy special guests, magic shows, storytellers, and visits from animals, just to name a few of the types of guests that we bring in for our students to learn from.
Students of World of ABC, The Waldo School have their curriculum further enhanced by our Guest Speaker Series. Designed to expand upon current themes in the classroom, students are exposed to a monthly speaker. Guest speakers come from all walks of life. From politicians to veterinarians, our students have the unique ability to learn about various disciplines and are offered the opportunity to engage in a Q&A session following the presentation.
You can find out more about our curriculum and get a virtual tour on our website www.WorldofABC.com or by scheduling in-person or virtual tours of the schools.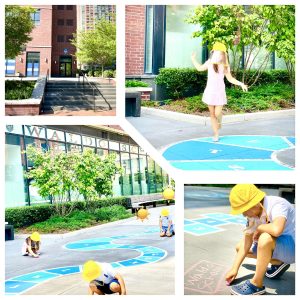 Safety and Covid-19 Protocols
At World of ABC, The WALDO School, we take safety and health very seriously. From the monthly fire drills to daily cleaning and sanitizing, to electrostatic seals, Covid-19 testing and so much more.
We love to learn through hands-on activities and we love to do experiments and touch all kinds of materials! Therefore, at the end of the day, our classes are a mess 😉, but this was and is never a problem because we hire a reputable professional cleaning company that cleans our facilities every single evening, Monday through Sunday. There are no exceptions. They clean and disinfect all the surfaces and every corner of our schools. 
In addition, each class is equipped with air purifiers with HEPPA filters.
STEAM Summer Camp Program
We are excited to share with you our World of ABC, The Waldo School Summer Camp programs every year! Our Summer Camp offers four different sessions for parents to choose from with multiple timing options to help meet the needs of our families. We have also designed two different programs, one for preschoolers and one for Kindergartners – 8th Graders!
For our Preschoolers
Our Summer Camp program is a balance of fun and creativity, with an emphasis on student-driven, inquiry-based approaches to learning! During each week's unique theme, such as Jurassic Land, All Aboard! and Construction Junction, STEAM (science, technology, engineering, arts, and mathematics) will be incorporated in a hands-on way. Campers will also regularly visit our Preschool Maker Space, where they will be able to explore, create, and engineer with a variety of open-ended materials. Our camp also features daily outdoor time, in the park located right next to our Schools, on our big front terrace at 110 1st Street, and for our PreK 3 and PreK 4 students, walking trips to the waterfront.
For our Elementary and Middle Schoolers
Featuring robotics, engineering, art, programming, and coding activities, campers will problem solve and collaborate on projects using the latest technology in a student-driven, inquiry-based setting! Campers will explore eight exciting, STEAM-focused themes, such as Math Maniacs, Flight Academy, Circuits and Design, and Roving Robots, in our dedicated STEAM lab and Maker Space. Campers will also learn about a different sport each week in our huge indoor gymnasium and participate in daily outdoor time and walking trips to the waterfront.
Why choose World of ABC, The WALDO School?
Differences from other Jersey City Preschools/Schools
Each and every class has

big windows and is sunk in natural light

, which is very important for our children's eyes.

Real big indoor gym

where children can explore different sports, including a state-of-the-art golf simulator

Large private outdoor space

in front of school and location

next to the park

equipped with hopscotch, chess tables where children can enjoy organized games, get fresh air daily

Only private school in Jersey City to have a salt water,

heated pool on premises

Teacher/student

ratio is at a reduced rate

to ensure individualized attention to each student

We

welcome parents inside the classes

often to show them what their children are working on and learning

Classes called

specials included in the weekly curriculum

like drama, robotics, coding, foreign language, art, music, physical education. These classes create the well-rounded successful student

Variety of

clubs and enrichment programs offered

after school, from mathematics, Chess, robotics to Broadway Musicals led by Grammy nominated, Broadway Star and Carnegie Hall star N'Kenge Pacurar to swimming run all year round by British Swim School straight at our indoor pool to French, Russian, Chinese, Hindi and so on language clubs and so many more to choose from to help parents out with finding activities for their children after school

Multiple awards and recognitions received

from prestigious institutions like NASA, First Lego League Competitions, 1

st

Place in State of New Jersey for mathematics in 5

th

grade, 2

nd

Place in State of New Jersey for mathematics in 4

th

grade, placed within the top ten nationally in the Math Kangaroo contest,

participated in the US National Math League competition after progressing through local qualifiers and state championships, and have placed in multiple local and state level chess tournaments.

International Baccalaureate accredited and certified World School 
We invite parents to come see the schools and see for themselves. We offer tours every week at different times to ensure flexibility for working parents. Please call the school at 201-721-6000 to schedule a tour or email [email protected]. 
Related Blogs: Hamilton Park Montessori School, Hudson Montessori School, Apple Montessori School, The OLC School, List of other schools