Playgrounds in Hoboken
The sun is shining and the weather is perfect for families to step out and enjoy a local park. Local playgrounds are a great free and fun option. Luckily, Hoboken residents have a ton of options when it comes to playgrounds. If you are looking for other fun things to do in the summer, check out sprinkler parks or visit an outdoor restaurant in Hoboken. 
4th Street and Willow Avenue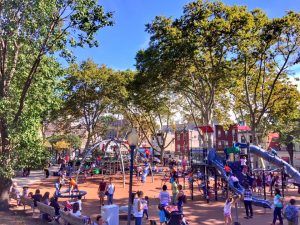 Church Square Park is perfect to check out on a hot summer day. It is quite popular in the community and has four separate playgrounds. The playgrounds are for all ages. It includes a gated playground for toddlers. Addtionally, it also has a gazebo, chess tables, basketball courts and more.It's a great playgrounds in Hoboken loved by locals.
Clinton Street between 9th and 10th Streets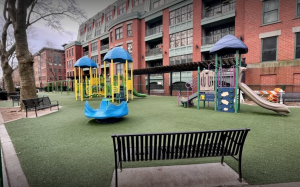 This park was renovated in 2019. Columbus Park is home to multiple athletic courts, including a multi-use with a half basketball court, three lighted tennis courts, bocce courts, a shuffleboard court, and a hitting wall. Children can enjoy two playgrounds and a spray park to cool off during the hot summer days.
Hudson Street and 10th Street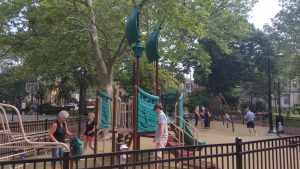 Close to the waterfront, this location is great for families living uptown. It allows you many options to walk around with your little ones. This area has great views, a splash pad as well as a basketball court.
Jackson Street and 1st Street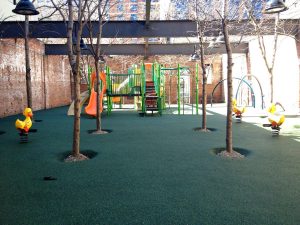 This park is tucked away in a quiet area of Hoboken. This enclosed playground features a brand new playground as well as sprinkler arches ready to enjoy in the summer. It is a nice shaded playground area.
Located on Madison Street and 3rd Street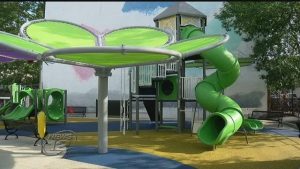 Hudson County awarded the City of Hoboken a $500,000 grant for improvements to the Madison Street Park Playground through the Hudson County Open Space Trust Fund. It reopened in 2019. It is bright and beautiful in the summer. The park is open to the public from 8AM-8PM. Addtionally, the renovated park has new sections of playground equipment for children and includes an upgraded sprinkler park, new swing sets, a climbing net and a pair of African xylophones.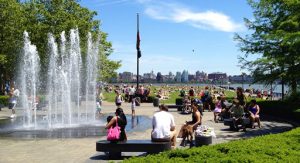 Pier A Park is a beautiful spot to check out on the weekend in the summer. They have a beautiful park and lawn area to enjoy! In addition, The Pier A fountain is huge and shoots up several feet high, making it a great space for tons of kids to run in and out of the water to cool off.
1225 Willow Avenue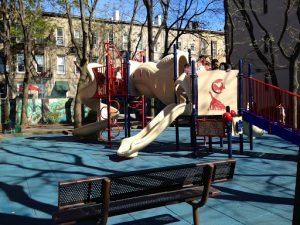 Legion is a little park on the corner of Willow Avenue and 13th Street. Kids can enjoy the little playground as well as the frog and flower sprayers. It's well shaded and perfect all kids.
501 Park Ave, Hoboken
Harborside Park includes two gated playgrounds with a beautiful shaded gazebo. Its perfect for families and is adjacent to an open grass field.
401 Hudson Street
Stevens Park is perfect for all families! The park has small playground areas with a sprinkler park in between. They also have a ton of green space, a fenced dog park, and gorgeous waterfront views.
1st Jefferson St, Hoboken, NJ
Jefferson Park, located on Jefferson Street between 1st and 2nd Streets, was recently renovated to maximize park space with brand new playground equipment for children of different ages, two climbing structures, and a new turf safety surface.
11TH Sinatra Dr N, Hoboken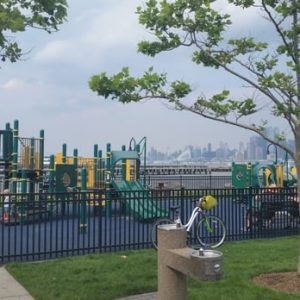 Maxwell Park is on the waterfront of Hoboken. It includes a gated playground area, swings, picnic table, and a full grass area.
600-620 7th St, Hoboken
Photo by Jersey Digs
Approximately 1 acre of the park consists of an open grass area with public seating and a children's play area. They have a beautiful playground for kids to enjoy with slides.